The Role of Technology in Digital Humanities Education
UCD Digital Cultures Research Strand will host a Round Table event: 30 November 2021, 11.00 am.
Join Zoom Meeting
https://us02web.zoom.us/j/82788124112?pwd=Lzd5T3huSEc0cXNBM3R5b2o5VEptQT09
Meeting ID:82788124112
Passcode: 2gQgiD
Participants:
Dr Marta Bustillo,
UCD Library
Title: UCD Library's "Exploring Your Digital Identity" Online Course
Abstract: In this talk I will introduce the new Digital Learning Librarian role at UCD Library, together with the first project for the role: a fully online Explore module on Brightspace aimed at helping UCD students take control of their digital identities.
Bio: I am the Liaison Librarian for the Social Sciences at UCD. I teach students across all Social Sciences programmes how to find, critically evaluate and manage the information resources they need for their assignments and research projects. Prior to joining UCD in March 2017 I worked as Metadata Cataloguer in the Digital Resources and Imaging Services unit at the Library of Trinity College Dublin. Before that I was Visual Resources Librarian at the National College of Art & Design in Dublin and at the Rhode Island School of Design in Providence, Rhode Island. I have a Ph.D. in Art History from Trinity College Dublin (2004), and an M.A. in Information and Library Management from Northumbria University (2012). I am working with the UCD EDTL project in my new role as Digital learning Librarian. I created a document summarising what I am hoping to do in this role, initially with the Colleges of Engineering & Architecture and Science, and later across the university.
Dr Tupur Chattopadhyay,
School of English Film and Drama
Title: Cultures of Entertainment in Digital India
Abstract: India's entertainment industries are undergoing an immense digital transformation. Along with global giants like Netflix and Amazon aggressively pursuing the Indian market, all major broadcasters like Sony, Star, and Balaji Telefilms have launched successful content streaming platforms like Hotstar, Voot, Zee 5, and Alt-Balaji, among many others. My research aims to study the ongoing reconfiguration of entertainment cultures in India across production, circulation, and consumption. It will map the ways in which an established and powerful media capital like Bombay is negotiating the infrastructural, economic, and socio-cultural turn to the digital, particularly focusing on i) the role of data in generating new knowledge about digital audiences and ii) stylistic experimentations with form and genre.
Bio: Dr. Tupur Chatterjee is an Assistant Professor in Global Film and Media in the Department of English, Drama, and Film at University College Dublin. She was a Postdoctoral Research Fellow in the Global Media Studies Initiative in the Department of Communication and Media at the University of Michigan Ann Arbor. She earned a Ph.D. from the Department of Radio-TV-Film at the University of Texas at Austin. She is currently working on her first monograph, titled, Ladies First: Architecture, Anxiety, and Moviegoing in India. Her work has been published in the International Journal of Cultural Studies, Feminist Media Studies, South Asian Popular Culture, Porn Studies, and Synoptique.
Dr Anna Kadzik- Bartoszewska,
School of English Film and Drama
Title: Accessibility, Visibility and Innovation
Abstract: Over the last number of years there has been a huge shift to digitisation and gamification of learning and consummation of media. The Covid-19 pandemic has resulted in the adoption of digital learning on an unprecedented scale. However, this adoption has created many questions about certain digital tools efficiencies and focus such as: How do digital tools affect learning and understanding? Does using cutting edge technology enhance learning for students? How innovative methods and digital tools in the classrooms and beyond can advance the process of change? What is the role of stakeholders in accessibility to digitized contents?
Bio: Anna holds a PhD in Art History from University College Dublin. For several years she has taught in UCD at the School of Art History and Cultural Policy and worked at the Chester Beatty Library as the Acting Head of Operations. She also coordinates the Education and Outreach Department activities at The Gaiety School of Acting, the National Theatre School of Ireland. In recent years Anna has successfully overseen several EU funded projects in STEM education, Human Rights and Intercultural Education. She has developed national STEAM projects under the umbrella of the Science Foundation Ireland and was collaborating on the Cemec project co-funded by EU as the postdoctoral researcher. In 2021 she has joined the teaching team at the School of English, Drama and Film.
Dr Claas Kirchelle,
School of History
Title: Digital humanities and the multi award-winning Typhoidland exhibition
Abstract: My talk will focus on the digital humanities work underpinning the multi award-winning Typhoidland exhibition and the new AHRC/IRC-funded Typhoid, Cockles, and Terrorism project. I will discuss how historians can use digital humanities methodology to critically analyse analogue quantitative historical mortality and morbidity data and answer important questions about the impact of historical sanitary interventions in different hydrological, geographic, and cultural contexts. I will also highlight the possibilities of using resulting research data to engage the public in creative ways about the importance of collective action and solidarity in Global Health.
Bio: Claas is historian of the biomedical sciences. Based at University College Dublin, he researches the history of microbes, infectious disease, and the development, marketing, and regulation of antibiotics and vaccines. Since completing his DPhil in 2015, he has authored three books on the history of antibiotics in food production (Pyrrhic Progress, 2020), animal welfare, science, and activism (Bearing Witness, 2021), and typhoid control (Typhoid, 2022). Public Engagement is an important part of Claas' work. Over the past five years, he has co-curated two multi award-winning exhibitions on the history of penicillin (Back from the Dead) and typhoid (Typhoidland) and advised on radio and theatre plays. His work has been featured in numerous international print and broadcasting outlets. Claas holds honorary fellowships at the Oxford Vaccine Group and Oxford Martin School.
Dr Sean Leatherbury,
School of Art History and Cultural Policy
Title: Premodern Digital Cultural Heritage Network: A Case Study in Collaboration
Abstract: The Premodern Digital Cultural Heritage Network (2020-2021), a network organised between UCD and the University of Oxford and funded by an AHRC-IRC Digital Humanities Networking Award, aimed at connecting existing open-access digital projects focused on ancient and medieval architecture and archaeology (i.e. built heritage). This short talk will summarise the network's activities and explore the network as a case study in the challenges and opportunities of collaboration between digital projects that cover similar content areas but with very different missions.
Bio: Dr. Sean Leatherbury, Assistant Professor and Ad Astra Fellow School of Art History and Cultural Policy, University College Dublin. Sean V. Leatherbury is an historian of Roman, late antique, and Byzantine art and architecture. After graduating from Yale, he completed his masters and doctorate at the University of Oxford. His research has been supported by residential fellowships at the Getty Villa in Los Angeles (2014-15), the Bard Graduate Center in New York (2013-14), and the Council for British Research in the Levant (2013-14), and by grants from the Oxford Centre for Byzantine Research, Corpus Christi College, Oxford, and the Association for the Study and Preservation of Roman Mosaics (ASPROM). Most recently, he was Assistant Professor of Art History at Bowling Green State University in Ohio (2015-2019) and Research Associate of the Monumental Art of the Christian and Early Islamic East project at Oxford (https://www.classics.ox.ac.uk/monumental-art-of-the-christian-and-early-islamic-east).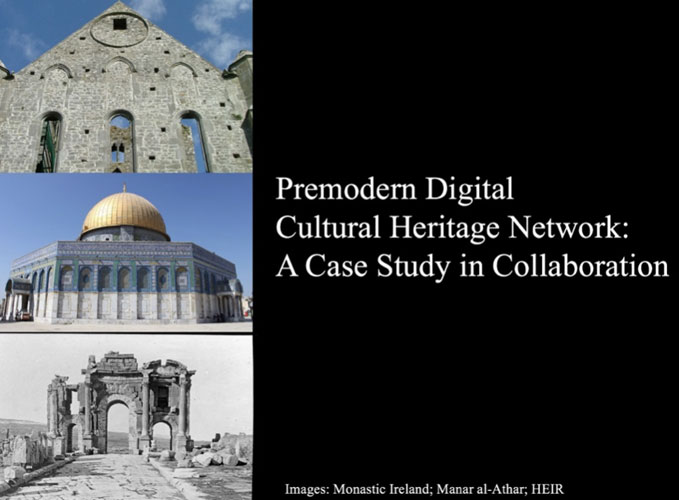 Dr Conor Linne,
School of English Film and Drama
Title: Patrick Kavanagh: A Life in Literary Magazines, Digital Exhibition and Archive
Abstract: Patrick Kavanagh: A Life in Literary Magazines, Digital Exhibition and Archive is an inter-institutional collaboration between UCD Library Special Collections and the Museum of Literature Ireland (MoLI). The project brings together the archival and digital expertise of UCD Special Collections and MoLI to visualise the world of the literary magazine and its role in shaping the career of one of Ireland's most renowned poets. The project will digitise a range of material from the Patrick Kavanagh Archive at UCD Special Collections, creating an open-access online exhibition platform that will function as both a public cultural resource and a teaching and learning tool. It will offer a multimedia and multilingual experience, presented in both English and Irish, and creating a compelling narrative through a sequence of digitised images, film and audio recordings.
Bio: Dr Conor Linnie is a Government of Ireland Postdoctoral Fellow at the School of English, Drama, and Film. His research explores the periodical networks that connected literary and artistic activity in the mid-twentieth century. An experienced digital humanities curator, he curated the 2019 digital exhibition The Poetics of Print: The Private Press Tradition and Irish Poetry with the Library of Trinity College Dublin. He is also co-editor with Dr Maria Johnston of the recently published collection of essays Irish Women Poets Rediscovered: Readings in poetry from the eighteenth to the twentieth century (Cork University Press).