Conferring of UCD Matheson PhD Scholar in Commercial Law
Conferring of UCD Matheson PhD Scholar in Commercial Law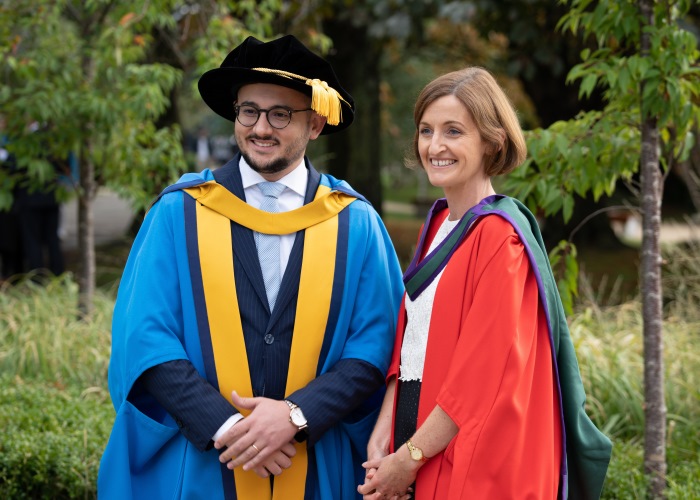 Dr Alexandru-Gabriel Soptica-Vid with Dr Niamh Howlin, Dean of Law
UCD Sutherland School of Law congratulates Dr Alexandru-Gabriel Soptica-Vid who was recently conferred with a Degree of Doctor of Philosophy (PhD). He was the recipient of the UCD Matheson Scholarship in Commercial Law while in UCD and was supervised throughout his PhD by our colleague, Dr Mary-Catherine Lucey. Alexandru's thesis title was: "Reformulating the contribution of EU Private International Law to the development of the private enforcement of EU competition law".
Alexandru has written the following piece about his doctoral studies at UCD Sutherland School of Law:
"My PhD thesis combined two specialised areas of EU law, namely EU competition law and EU Private International Law (PIL). Public enforcement has been the mechanism traditionally used for safeguarding the objectives of EU competition law. More recently, the EU legislator is investing significant effort in designing a complementary private enforcement mechanism which allows individuals to seek remedies before national courts against the harmful effects produced by breaches of the Treaty rules on competition. The majority of these claims include cross-border elements, and, the EU PIL instruments are indispensable to answer the questions of which courts have jurisdiction to hear the claim and what law applies to the matter. The thesis answers the question of: 'what is and should be the role of EU PIL in the development of the EU competition law private enforcement mechanism?'.
I am deeply grateful to my supervisor, Dr Mary Catherine Lucey who has helped me enormously during my programme, particularly during my final two years during the Covid pandemic which have been very challenging.
I am also thankful to Matheson for generously supporting my research activity through the 'UCD Matheson Doctoral Scholarship in Commercial Law'. Furthermore, I am thankful for their moral support, as it was a rewarding experience each time I was invited at the Matheson offices to present my research findings.
Prior to the PhD degree in UCD Sutherland School of Law, I studied an LLM in International Commercial Law at University of Aberdeen in Scotland and a Bachelor of Laws at Babes-Bolyai University in Romania ".