Former President Mary Robinson welcomed by UCD Sutherland School of Law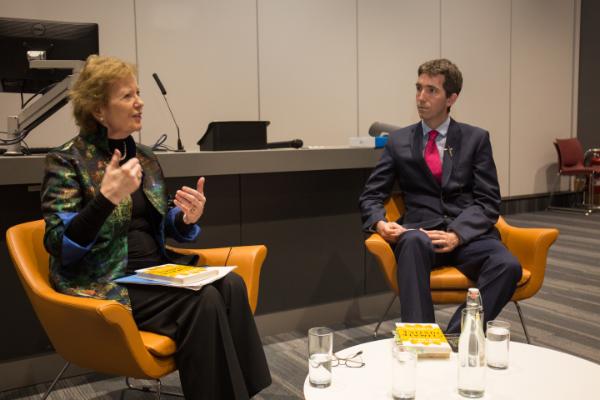 Former President of Ireland, Mary Robinson with Dr. Andrew Jackson
The Sutherland School of Law was honoured to welcome former Irish president, Mary Robinson recently to speak on the subject of climate change. Mrs Robinson, the first woman elected as President of Ireland, was previously the United Nations High Commissioner for Human Rights and, in 2014, was appointed to oversee UN efforts to tackle climate change.
In conversation with Dr Andrew Jackson from the School of Law, Mrs Robinson discussed how those who wish to make a meaningful contribution to climate change, should make it a personal issue in their lives. Speaking to a large audience made up of law students, academics and practitioners, she expressed the opinion that politicians can be too short-sighted to tackle this critical issue and urged lawyers to take on a more meaningful role in compelling action to be taken. She suggested that the courts could provide the "necessary moon shot" to force a sweeping transformation of the Irish economy to help combat climate change.
"All over the world court cases are being taken on climate change… I'm glad for that because [the court] is one way of cutting through something and forcing a situation."
Mrs Robinson, who lectured in UCD in the 1960s, is a strong believer in the value of education in the advancement of important global issues. She advocates that the United Nations Sustainable Development Goals should form part of the curriculum at national and higher education. They include ending poverty, ending hunger, achieving gender equality, taking urgent action on climate change and ensuring responsible consumption and production.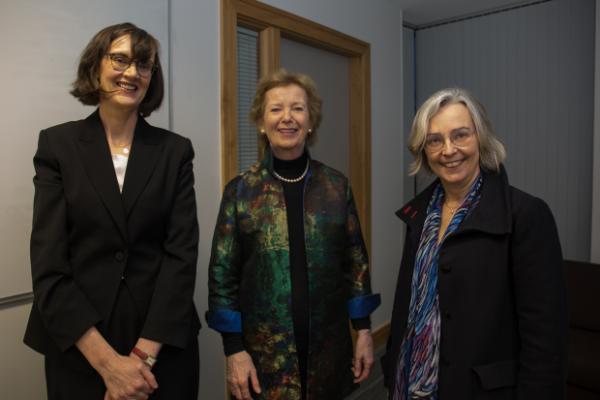 Prof. Suzanne Egan, Mrs. Mary Robinson and Prof. Imelda Maher, Dean of Law, UCD Sutherland School of Law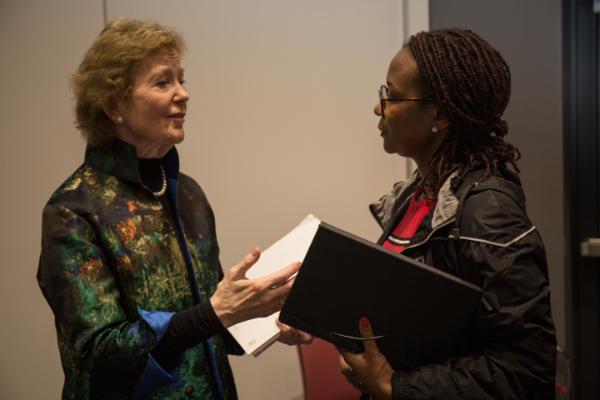 Mrs. Robinson speaking with a guest on the night