UCD PhD student Edoardo Celeste invited to talk at the Hans-Bredow-Institut of Hamburg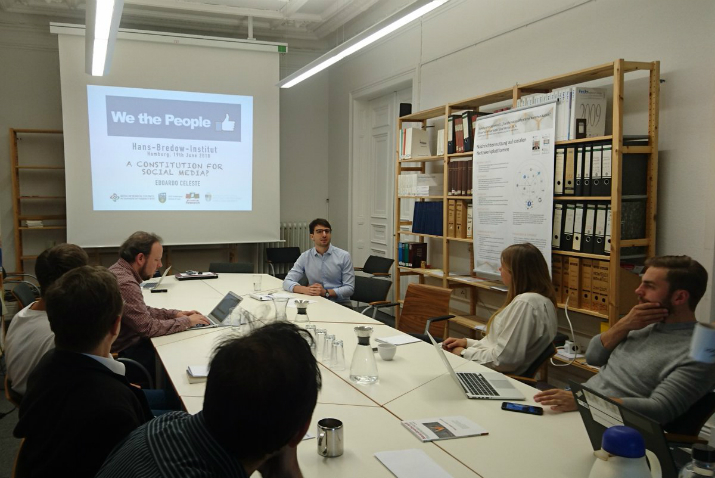 On June 19th 2018 Sutherland School of Law PhD student Edoardo Celeste was invited to present his recent work on constitutionalism in the social media environment at the Hans-Bredow-Institut for Media Research at the University of Hamburg (Germany). Edoardo is an Irish Research Council Postgraduate Scholar and is currently visiting fellow at the Alexander von Humboldt Institute for Internet and Society (HIIG) of Berlin.

Edoardo's workshop in Hamburg was provocatively titled 'A Constitution for Social Media?' and reflected on the role of social media's terms of services and bills of rights of social media users as potential mechanisms of constitutionalisation for the social media environment.

On this topic Edoardo recently published the article 'Terms of service and bills of rights: new mechanisms of constitutionalisation in the social media environment?' in the International Review of Law, Computers & Technology as well as a thought-provoking post in the HIIG Science Blog's special dossier on the new EU General Data Protection Regulation.
Launch of the UCD Centre for Constitutional Studies & Judicial Review Conference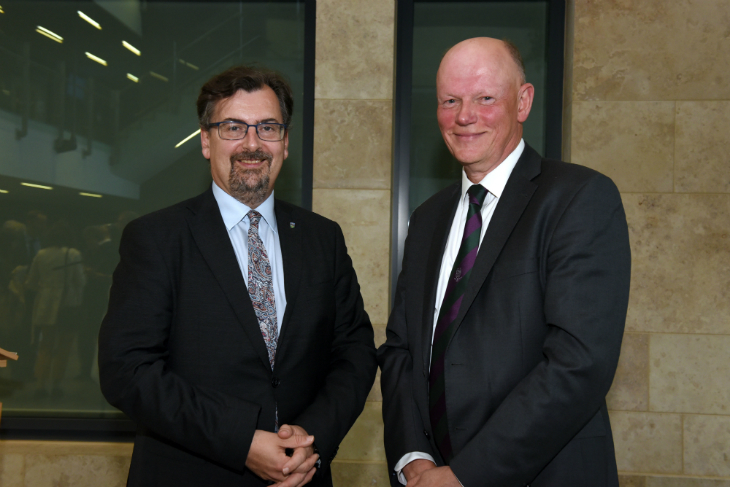 Prof Colin Scott & The Hon. Mr Justic Donal O'Donnell at the launch of the UCD Centre for Constitutional Studies
The 2018 Judicial Review Conference hosted by The UCD Centre for Constitutional Studies in the Sutherland School of Law attracted a wide audience of legal professionals from throughout Ireland. This conference comprehensively covered recent developments in Irish public law from leading academics and practitioners in the field. There were eighteen contributors which included senior members of the judiciary, leading barristers, speakers from law firms and leading academics from UCD and TCD. The comprehensive programme for the half day conference included break out panels on Criminal law, Regulatory Law and Planning and Environmental Law in addition to three plenary sessions on Constitutional Law, The European Dimension and Administrative and Public Law. Following a busy schedule of events a reception was held to mark the launch of the UCD Centre for Constitutional Studies.
Building on the success of the 2018 conference, this will be an annual event hosted by The UCD Centre for Constitutional Studies. May 23rd is the planned date for 2019 Judicial Review Conference in UCD. To sign up for the Sutherland School of Law Events mailing list please click here.

‌
Mr Paul Gallagher SC speaking at the panel on Administrative & Public Law

Inaugural Leman Award in Intellectual Property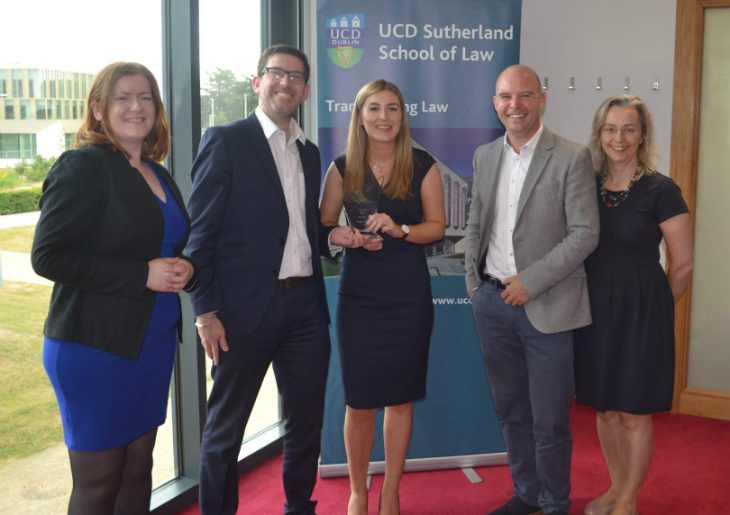 Pictured Above (L-R): Dr Cliona Kelly, UCD Sutherland School of Law; Paige Kelly, Winner of the 2018 Leman Award in Intellectual Property; Brian Conroy, Leman Solicitors Trademark & IP Litigation Specialist; John Hogan, Partner, Leman Solicitors; and Prof Imelda Maher, UCD Dean of Law
Leman Solicitors has named UCD graduate Paige Kelly as the winner of the 2018 Leman Award in Intellectual Property. The award recognises the best performance in the Intellectual Property module co-ordinated by Dr Cliona Kelly.

Ms Kelly, who just completed the Bachelor in Business & Law degree, was presented with the prestigious award, which includes a €500 prize and an offer of a work placement in Leman Solicitors. Ms Kelly is continuing her studies with a Masters at UCD Michael Smurfit Graduate Business School.

This is the first prize-giving as part of a three-year partnership to which Leman Solicitors has committed with the law school. The bursary of €2,000 per year goes towards education materials for the school and €500 goes directly to the best performing student in the IP module.

Trademark and IP litigation specialist Brian Conroy provides mentoring for the winning student and is a guest lecturer for the IP module.

In addition to the award, Leman partners with UCD for the UCD Internship Programme where a third-year law student is placed with Leman for four weeks during the summer to gain practical experience.

John Hogan, partner at Leman Solicitors, said: "We are delighted to support the UCD Sutherland School of Law through this bursary.

"Many of our lawyers have come through the course which we know to be excellent. We know how important it is for students to have real interaction with law firms and practicing lawyers, and to get practical experience before graduating. This programme allows us the opportunity to reward a student and provide a placement in our firm whilst also supporting the school.

"Paige is an exceptionally bright student with an exciting career ahead of her, she thoroughly deserves the award and we are very pleased to present her with the prize."

Professor Imelda Maher, UCD Dean of Law, added: "Support for students to excel is of great importance to the School. It's also critical for students to have some experience of the practical legal environment so we are very grateful to Leman Solicitors for this partnership."
UCD Alumni Celebrate World Cup Success
Above L-R John O'Dowd, Prof Imelda Maher, Deirdre Duke, Paul Ward
Staff of the Sutherland School of Law recently met with three stars of the UCD Ladies Hockey Team to congratulate them on their recent silver meadal success in the recent World Cup.

Former Captain of the UCD Ladies Hickey Team, Deirdre Duke is also an alumna of the Sutherland School having completed the Bachelor of Business and Law programme. Deirdre will be continuing her playing career with a move to Düsseldorfer Hockey Club.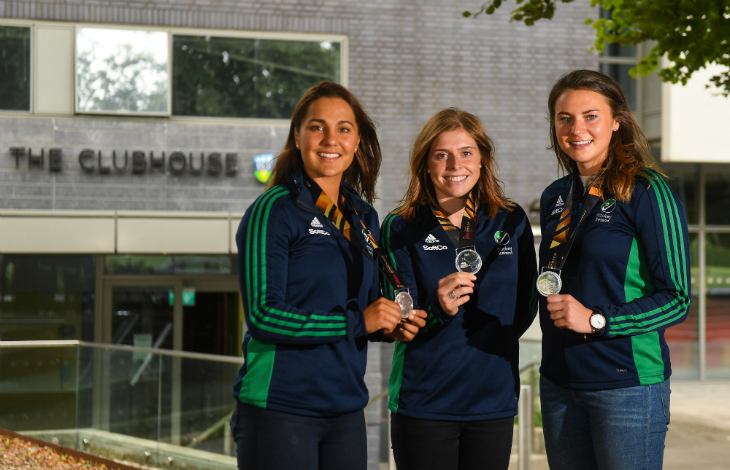 Above L- R, Lena Tice, Katie Mullan and Deirdre Duke
UCD Law with History graduate awarded Dean's Scholar Prize at Harvard Law School
John Gallagher a Law with History Graduate 2016 ( and Bank of Ireland Gold Medal holder) was awarded one of the Dean's Scholar Prize at Harvard Law School this summer. The Dean's Prize is awarded for 'outstanding performance'. The Prize awarded to John was in recognition of his performance in the 'Corporations' module. In the 'Corporations' module the prize is awarded for being ranked in first or second place in the end of year exam.
Two year's earlier, John's brother, James (Business and Law (International) 2015) was similarly honoured. In 2016, James was awarded the Dean's Scholar Prize for his top ranking performance in 'International Finance' module on the Harvard LLM.
Irish European Law Forum, European Wildlife Law Book Launch and Field Trip
On 31 May and 1 June 2018 the Law School hosted leading environmental law academics, policy-makers and practitioners from across Europe to participate in various events relating to European nature conservation law and policy.
The events – organised by Dr. Andrew Jackson – comprised a field trip for speakers and chairs to protected areas in the midlands on 31 May, the launch of Dr. Jackson's new book "Conserving Europe's Wildlife" that evening, and the annual Irish European Law Forum on 1 June, this year entitled "Key Challenges in European Nature Law and Policy".
Field Trip
The field trip comprised visits to two "Natura 2000" sites (EU protected areas for wildlife and habitats) in Co. Offaly: Charleville forest and castle followed by Clara bog, one of the finest remaining raised bogs in Ireland.
At Charleville we were kindly guided by Dr. Maria Cullen and Dr. Howard Fox of the Botanic Gardens and saw, amongst other things, the fabulous "King Oak", at least 400 years old.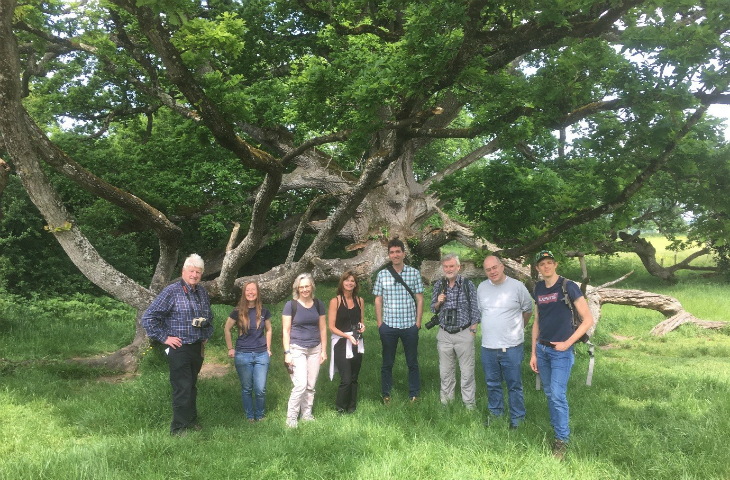 L to R in front of the King Oak: Stanley Johnson, Maria Cullen, Imelda Maher, Carol Day, Andrew Jackson, Micheál Ó Bríain, Christoph Sobotta, Hendrik Schoukens
At Clara bog we were kindly guided by Jack McGauley and Ronan Casey, respectively project manager and public awareness manager of the ongoing "Living Bog" project, the largest raised bog restoration project ever undertaken in Ireland, a €5.4 million scheme co-funded by the EU under the LIFE initiative.
L to R at Clara bog: Ronan Casey, Andrew Jackson, Stanley Johnson, Jack McGauley, Carol Day, Hendrik Schoukens, Christoph Sobotta, Imelda Maher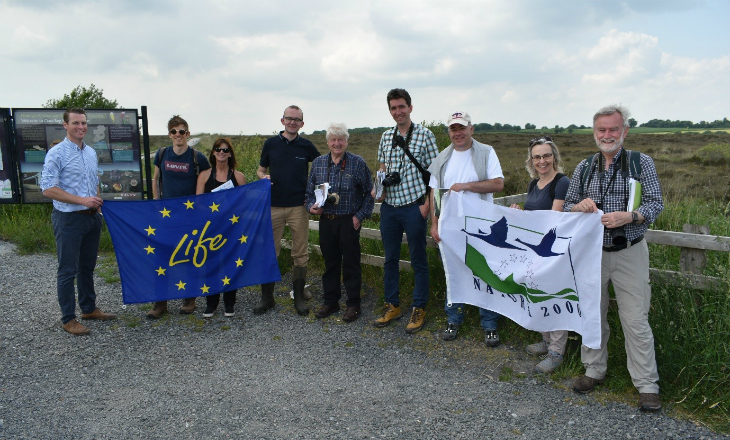 L to R: Ronan McGauley, Hendrik Schoukens, Carol Day, Ronan Casey, Stanley Johnson, Andrew Jackson, Christoph Sobotta, Imelda Maher, Micheál Ó Bríain

Book Launch
Immediately after the field trip, hiking boots were swiftly replaced for the launch of Dr. Jackson's new book "Conserving Europe's Wildlife: Law and Policy of the Natura 2000 Network of Protected Areas" (Routledge) at the Law Society on Blackhall Place.
The event was chaired by the Dean of UCD Sutherland School of Law, Prof. Imelda Maher. Speakers comprised the author plus guest speakers Dr. John Temple Lang, who played a central role in the history of the EU's Birds and Habitats Directives, and Mr. Stanley Johnson, who played a central role in the history of the EU's Habitats Directive. Participants thanked both for their enormous contribution to EU environmental law and policy, reflected in the fact that almost 20% of the EU's terrestrial area is now within the Natura 2000 network of protected areas, plus large marine areas in addition.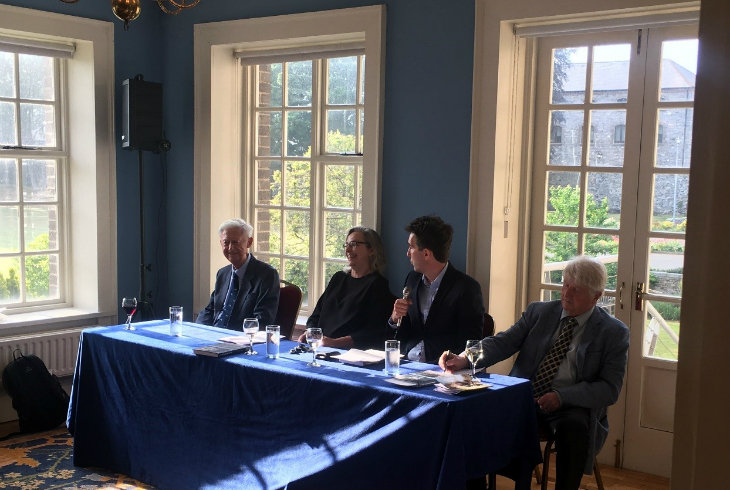 L to R: John Temple Lang, Imelda Maher, Andrew Jackson, Stanley Johnson
Irish European Law Forum

The following day, 1 June, the annual Irish European Law Forum was held in the UCD Sutherland School of Law, on the subject "Key Challenges in European Nature Law and Policy", with expert speakers from a variety of fields and backgrounds, including academics, practitioners, and participants from the EU institutions. The full programme for the event can be found here.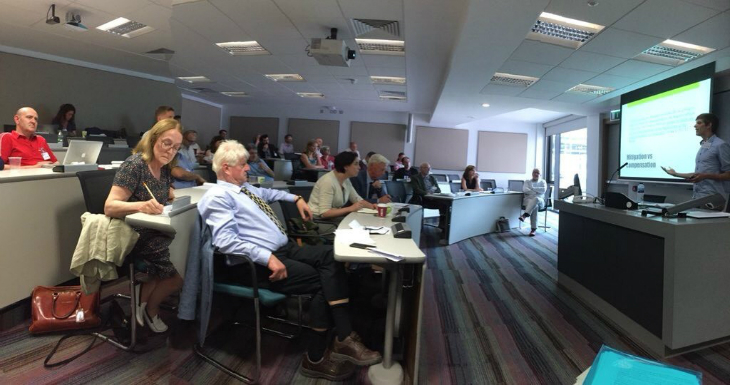 To sign up for the Sutherland School of Law Events mailing list please click here.
Welcome Barbeque for incoming First Years
As part of Orientation week in the Sutherland School of Law, incoming first year law students were invited to a Barbeque in the Courtyard of the law building. Thankfully for all concerned, the weather was beautiful and the students got an opportunity to relax in the sunshine with their Peer Mentors and fellow first years. The Barbeque was just part of a busy schedule designed to acquaint new undergraduate students with the UCD Campus and the Sutherland School of Law. In addition to the 'Scarfing Ceremony' in the O'Reilly Hall, students were welcomed by the Dean of Law, Professor Imelda Maher, Assistant Dean for Undergraduate Programmes Paul Ward, Student Advisor Nadia Clarkin and Programme Managers, Maureen Reynolds (BCL) and Margaret Maher (B&L).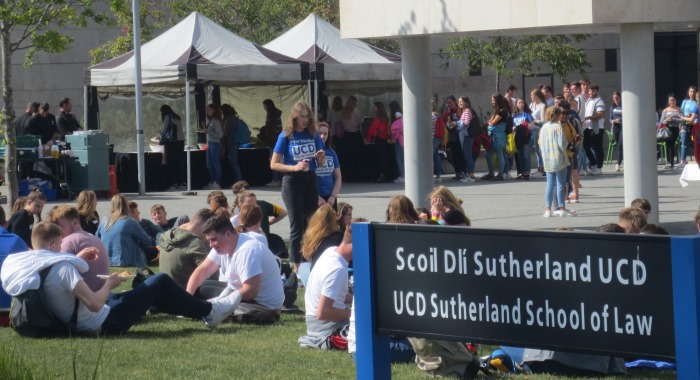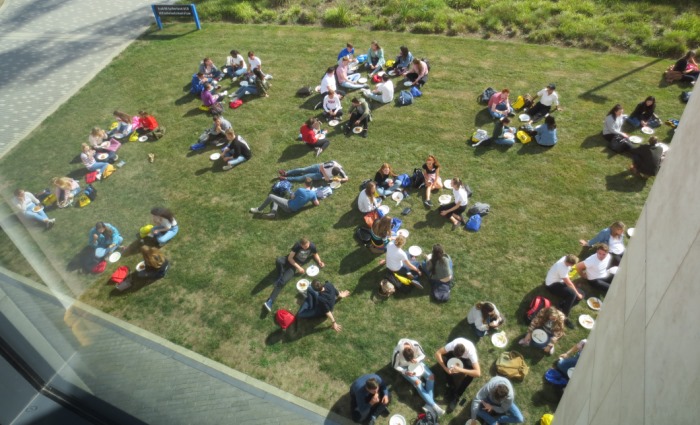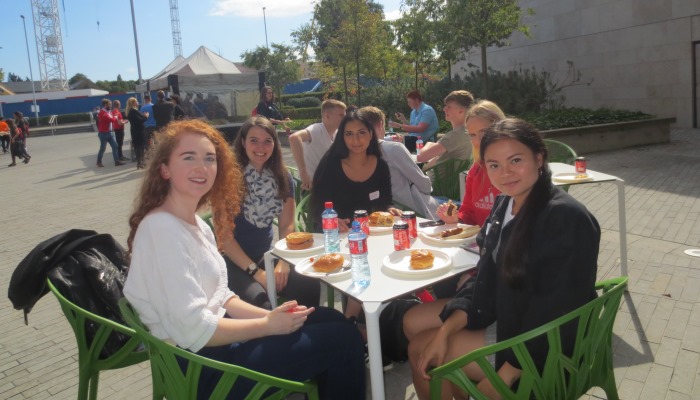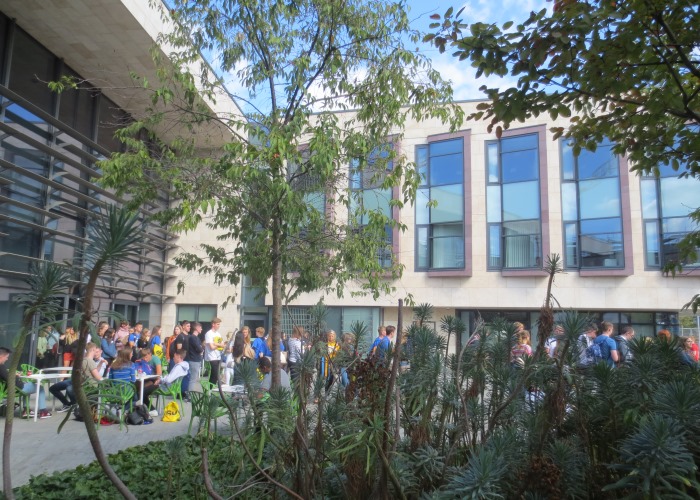 The 2018 V.V. Giri Lecture
The College of Social Sciences and Law was delighted to host the 2018 V.V. Giri Lecture in the Sutherland School of Law on May 23rd, 2018. College Principal, Professor Colin Scott, and Dean of Law, Professor Imelda Maher, were pleased to welcome the Indian Ambassador, HE Mrs. Vijay Thakur Singh to the lecture, along with many distinguished members of the Indian community. The lecture series commemorates the fourth President of India, VV Giri (1894-1980) who spent the years 1913 to 1916 as a law student at University College Dublin and the King's Inns.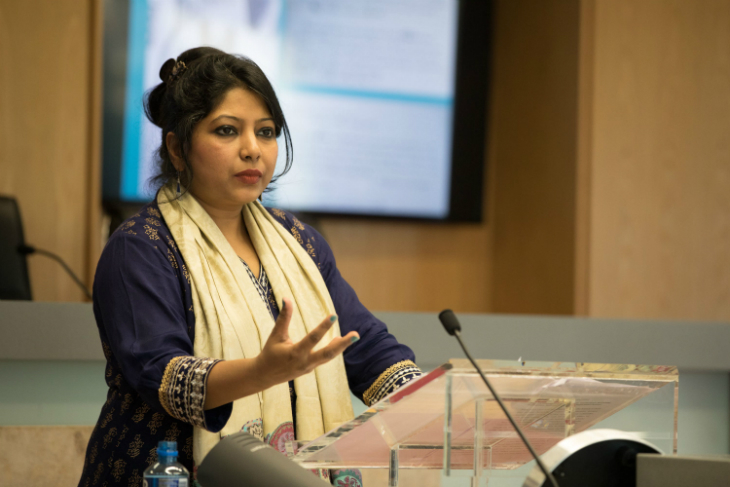 Pictured Above: Dr Jyoti Atwal delivers the 2018 V.V. Giri Lecture
Professor Jyoti Atwal from Jawarharlal Nehru University in New Delhi was the distinguished guest invited to deliver the 2018 lecture. Her lecture focused on the topical theme: "Margaret Cousins (1878-1954) in India and Ireland: Revisiting Suffragettes, National Ideals and Anti-Imperialist Politics". To introduce Professor Atwal, Dr Conor Mulvagh of UCD School of History placed it in the context of the intellectual, cultural and political links between Ireland and India in the early and mid-twentieth century. Professor Atwal's lecture examined how Margaret Cousins, who lived in India from 1915 until her death, played a critical role in the emergence of the Indian feminist movement and particularly in the founding of the All India Women's Conference in 1927. She traced how her activism in India was influenced by her experiences as a suffragette in Ireland and her reaction to the Easter Rising, during which her friend Francis Sheehy Skeffington was killed. This helped to confirm her commitment to non-violence and her alignment with Gandhi's views as to how India's national freedom and women's freedom should be pursued. Particular points of interest for Professor Atwal were the attitude Cousins took to issues of class, religion and caste as they affected the women's movement, her experience as the first woman to be appointed a magistrate in India and her personal engagement with Hindu spirituality, which she approached in a distinct way from many Theosophists and other European attracted by Indian culture. In particular, her experience of imprisonment in Ireland as a suffragette was an important factor in her approach to being imprisoned in India. The closing remarks were delivered by John O'Dowd of UCD Sutherland School of Law in which he placed Professor Atwal's lecture in the broader context of the debate over whether the Irish were mainly victims or vectors of British imperial rule at home and abroad.
Pictured Above L to R: Professor Colin Scott, HE Mrs. Vijay Thakur Singh, Professor Jyoti Atwal and Professor Imelda Maher
Vincent Keaveny To Receive 2018 UCD Alumni Award in Law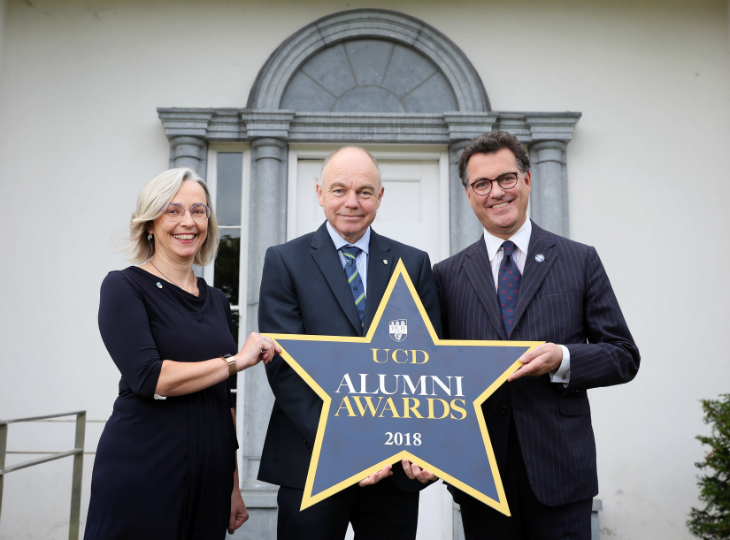 Pictured Above L-R (Prof Imelda Maher, UCD President Prof Andrew Deeks, Vincent Keaveny)
The UCD Alumni Awards proudly celebrate and honour the outstanding achievements of our alumni who uphold values that UCD holds dear – integrity, excellence, collegiality, engagement, creativity and diversity – values that we believe are in the DNA of our University.

The recipient of the 2018 UCD Alumni Award in Law is Vincent Keaveny.

Vincent Keaveny is a partner at international law firm, DLA Piper LLP, and a highly regarded practitioner having had a stellar career advising banks and companies throughout the UK and Europe on banking, finance and capital markets matters. He is an outstanding role model for UCD Law students and is supportive of their learning, while his firm is most accommodating with internships and student visits.

Vincent was one of the City of London's 25 Alderman in 2013 and was recently elected as one of two City of London Sheriffs for 2018-2019, a title dating back to the 14th century. Vincent is passionate about Music and Theatre and is a trustee of the music ensemble Exaudi, the Actors Theatre Company and is on the board of the Sir John Soane Museum.

With over 240,000 alumni living in 165 countries around the world, the UCD network is influential, successful, active – and truly international. Our graduates are the standard bearers for our reputation and it is largely because of them that the value of every UCD degree continues to be enhanced.

UCD alumni are the backbone of this great institution. Their successes reinforce UCD's position as Ireland's leading global university; their loyal involvement with UCD shapes the future of the University.
Appointment of McCann FitzGerald Assistant Professor in Law and Business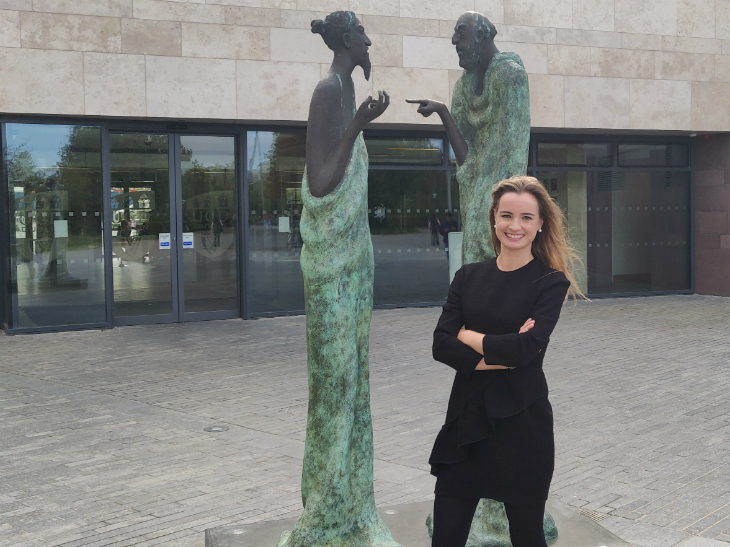 The UCD Sutherland School of Law is delighted to announce the appointment of Dr Sarah Fulham-McQuillan as McCann FitzGerald Assistant Professor in Law and Business. Dr. Fulham-McQuillan's research is in the law of obligations and she lectures Contract Law and Business Law in Sutherland School of Law.

A former Government of Ireland Scholar, she completed her undergraduate and doctoral studies at Trinity College Dublin. Her PhD focused on medical negligence, and how the doctor-patient relationship is reflected in law. She is currently writing up her thesis as a monograph. She has presented her work internationally, most recently including the Obligations IX 2018 Conference at the University of Melbourne, and as an invited guest speaker at the Obligations Discussion Group, University of Oxford. She has published her work at home and abroad. Her work includes "Judicial Belief in Statistics as Fact: Loss of Chance in Ireland and England" (2014) Journal of Professional Negligence.

Prior to joining UCD in September 2018, Dr. Fulham-McQuillan taught at Maynooth University and Trinity College Dublin. She is a former member of the Council of the Irish Association of Law Teachers, and is a member of the Society of Legal Scholars in the UK and Ireland and the Socio-Legal Studies Association.
Launch of new book on 'The Transformation of EU Treaty Making'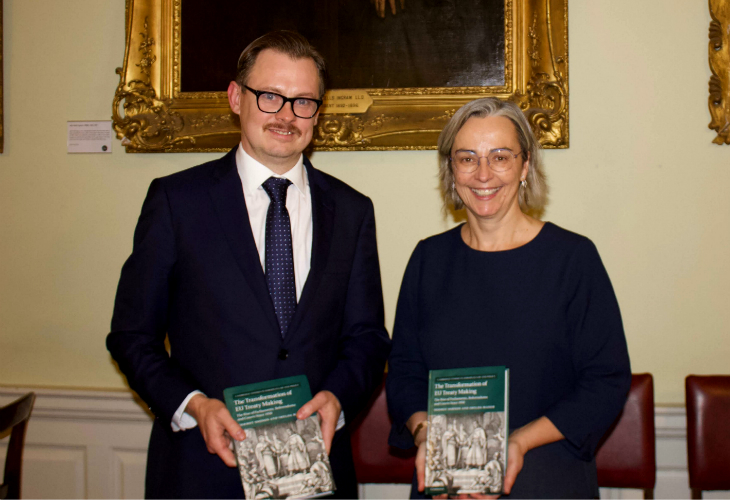 To mark the official launch of Dermot Hodson & Imelda Maher' The Transformation of EU Treaty Making – The Rise of Parliaments, Referendums and the Courts Since 1950, (Cambridge University Press, 2018) The Hon. Mr Justice Gerard Hogan recently chaired a panel discussion in the Royal Irish Academy.



Speaking on the panel were Professor Jo Shaw the Salvesen Chair of European Institutions at the University of Edinburgh and co-editor of the series, Cambridge Studies in European Law and Policy, in which the book is published. Professor David Phinnemore of the School of History, Anthropology, Philosophy and Politics in Queens University Belfast also presented with the authors, Professor Imelda Maher MRIA, UCD Sutherland School of Law and Dr Dermot Hodson, Department of Politics, Birkbeck College, University of London.


About the Book

Treaty making is a site of struggle between those who claim the authority to speak and act on the international stage. The European Union (EU) is an important test case in this respect because the manner in which the Union and its member states make treaties has shifted significantly over the last six decades. Drawing insights from EU law, comparative constitutionalism and international relations, this book shows how and why parliaments, the people and courts have entered a domain once dominated by governments. It presents qualitative and quantitative evidence on the importance of public trust and political tactics in explaining this transformation of EU treaty making and challenges the idea that EU treaties are too rigid. Analysing legal developments in the EU and each of its member states, this will be essential reading for those who wish to understand the EU's controversial experiment in treaty making and its wider significance.


About the Authors

Dermot Hodson is Reader in Political Economy at Birkbeck College, University of London and Visiting Professor at the College of Europe, Bruges. He has published extensively on European integration and governance and his books include Governing the Euro Area in Good Times and Bad (2011), The New Intergovernmentalism: States and Supranational Actors in the Post-Maastricht Era (2015, edited with Christopher Bickerton and Uwe Puetter) and The Institutions of the European Union, 4th Edition (2017, edited with John Peterson). He is a member of the editorial board of the Journal of European Public Policy.


Imelda Maher MRIA is the Sutherland Professor of European Law, University College Dublin. She has published extensively in EU law, and her books include Asian Capitalism and the Regulation of Competition: Towards a Regulatory Geography of Global Competition Law (Cambridge, 2013, edited with M. Dowdle and J. Gillespie). She was general editor of Legal Studies (2012–17) and is a member of the editorial boards of the European Law Journal and the Irish Yearbook of International Law. She is a member of the Royal Irish Academy and served as President of the Society of Legal Scholars in 2017.
UCD Research Impact Case Study Competition
Professor Ian O'Donnell's case study 'Surviving Solitary Confinement' has been selected as a runner up in the UCD Research Impact Case Study Competition for 2018.
The work upon which the case study is based reframes scholarly debates about prolonged solitary confinement, the abolition of which is an imperative for prison systems around the world. It provides prisoners in isolation with a set of tools to cope with an inherently destructive experience. It was cited in the High Court to block the extradition of a terror suspect to the US on the grounds that if it went ahead he would be held in isolation and this would constitute inhuman and degrading treatment. It led to a change in the law relating to solitary confinement, aligning Ireland more closely with United Nations standards.
Related publications
Prisoners, Solitude, and Time. http://ukcatalogue.oup.com/product/9780199684489.do
'The survival secrets of solitaries' https://thepsychologist.bps.org.uk/volume-29/march-2016/survival-secrets-successful-solitaries
'Time and isolation as performance art' http://journals.sagepub.com/doi/abs/10.1177/1741659014528345
'Psychological survival in isolation: Tussling with time on death row' http://www.apa.org/pubs/books/4316185.aspx
Related videos
https://www.irishtimes.com/news/crime-and-law/tales-from-the-block-surviving-in-solitary-1.2471253
https://www.youtube.com/watch?v=pZnMxaezVd0
https://www.youtube.com/watch?v=7ZgEDKDgKkA
21st Irish European Law Forum conference on Human Rights, Poverty and Social Justice
On November 3rd, 2018, the UCD Centre for Human Rights, in partnership with the University of Glasgow School of Law, held an interdisciplinary conference on the relationship between human rights and poverty at the Radisson hotel. It had a programme and audience remarkable for the diversity of their approaches and backgrounds and the contributions were characterised by an accessibility that will help build public awareness around these issues. This was especially true of the keynote address by Professor Philip Alston, the John Norton Pomeroy Professor of Law at New York University and UN Special Rapporteur on extreme poverty and human rights. In a rousing and passionate address on the problems of raising awareness and mobilising people for action, Professor Alston described the nature of the role and his recent experiences, not least the challenges of working in developed countries like the United States. Before and after Professor Alston's talk were speakers from a wide variety of institutions, discussing philosophical aspects of responsibility for poverty, the history of the concept and concrete legal and policy approaches to realising rights in contexts as different as Ireland, the United Kingdom, Spain, Botswana and India, as well as in the global context of a sustainable world. Legal approaches to international economic and social human rights were not neglected, but benefited from engaging with these philosophical and historical critiques and a consideration of the relationship of economic and social rights to violence and resistance. It is hoped that an interdisciplinary edited collection will result.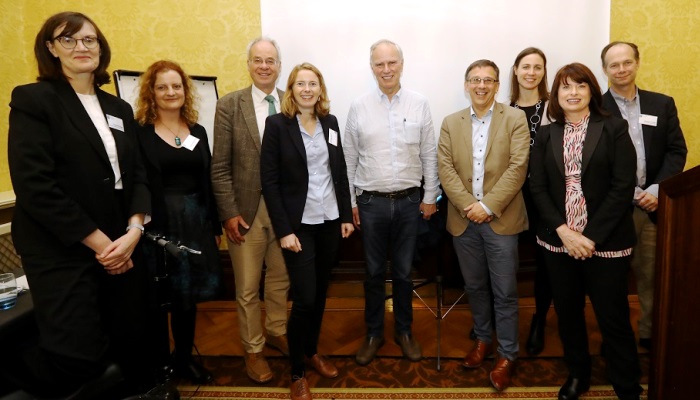 The speakers L to R:
Dr Suzanne Egan, Director, UCD Centre for Human Rights. Dr. Elizabeth Ashford, University of St Andrews, Senior Lecturer in Moral Philosophy. Professor Charles Gore, Former Head of Research on Africa and Least Developed Countries in UNCTAD and Honorary Professor of Economics University of Glasgow Business School. Dr. Julia McClure, Glasgow, School of Humanities, History Department.
Keynote: Professor Philip Alston, the John Norton Pomeroy Professor of Law (NYU) & United Nations Special Rapporteur on extreme poverty and human rights. Professor Wouter Vandenhole, Antwerp, UNICEF Chair in Children's Rights, Faculty of Law. Dr. Jesse Tomalty, University of Bergen, Associate Professor, Dept. of Philosophy. Chief Commissioner Emily Logan, Irish Human Rights and Equality Commission and Dr Graham Finlay, UCD SPIRe.
Click here for a copy of the programme
Matheson & UCD Sutherland School of Law host seminar on Brexit and the Irish AgriFood and Beverage Sector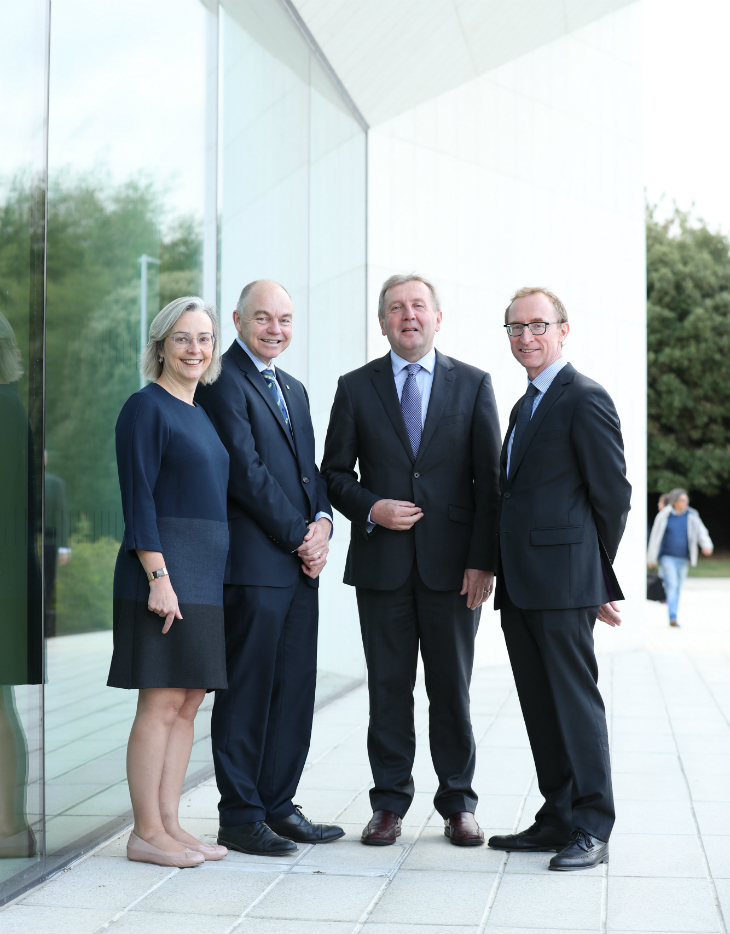 Pictured L-R, Professor Imelda Maher (Dean of Law), Professor Andrew J. Deeks (President of UCD), Mr Michael Creed TD, Minister for Agriculture, Food and the Marine and Tim Scanlon, Partnership Chairman Matheson.
Leading Irish law firm Matheson, together with UCD Sutherland School of Law, welcomed Mr Michael Creed TD, Minister for Agriculture, Food and the Marine to the first industry partnership event to be held at the newly opened UCD Confucius Institute for Ireland on Thursday 4th October 2018. Matheson and UCD hosted leading industry experts who discussed immediate and long-term Brexit impacts on the Irish agri-food and beverage sector and the necessity for accelerated export market diversification post-Brexit – particularly in China.
P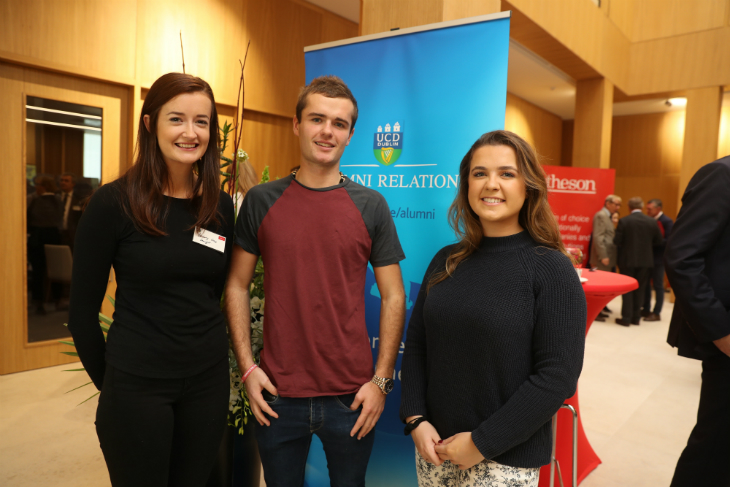 P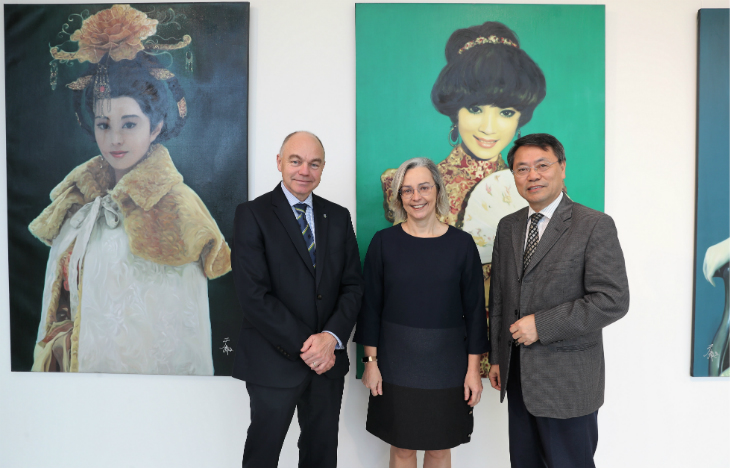 Professor Imelda Maher presents Vincent Keaveny with the Law Alumnus of the Year Award
UCD Law Review Volume 18 Launch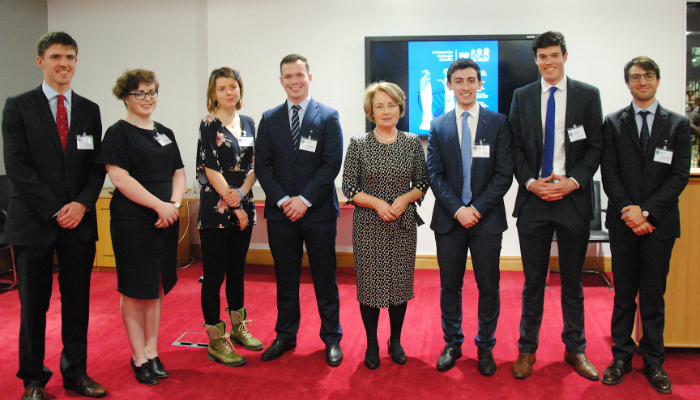 The Editorial Board of the University College Dublin Law Review were delighted to welcome staff and students of the Sutherland School of Law, alumni, authors and other distinguished guests to celebrate the launch of Volume 18. The guest speaker on the evening was the Honourable Ms Justice Mary Finlay-Geoghegan who praised the calibre and variety of the articles contained in Volume 18 and congratulated the Editorial Board and the authors for their achievement in producing a high quality publication.
This year's publication continues the Review's strong tradition in providing a distinguished forum of legal scholarship within the Irish legal community. Volume 18 contains articles that discuss diverse areas of the law, covering among others the areas of criminal, company and human rights law. It contains a particularly high number of articles from current UCD students and graduates, which highlights the excellent standard of legal writing and research of the Sutherland School of Law.
The award for Most Outstanding Article, sponsored by A&L Goodbody, was won by UCD alumnus, Eamonn Butler for his article 'A Miscarriage of Justice: Courts-Martial and the Legal Response to the 1916 Rising'. Rowan Kelleher (Stage 2 BCL) was also presented with his award for his case note on the recent judgment of N.V.H. v The Minister for Justice and Equality.
Addressing the audience on behalf of the Editorial Board, the Editor-In-Chief of Volume 18, Daniel Goode, thanked Arthur Cox for their continued support as main sponsors of the Review, praised the dedication and commitment shown by the Editorial Board, and thanked the staff of the Sutherland School of law, in particular the academic advisers of the Review - Dr Niamh Howlin, Dr Kevin Costello and Dr Noel McGrath for their support and advice throughout the year.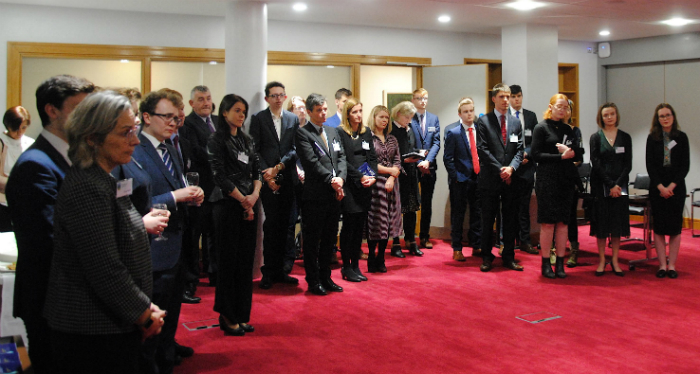 ‌