International Conference on Education and Democratic Citizenship (ICEDC) hosted in Sutherland School of Law
International Conference on Education and Democratic Citizenship (ICEDC) hosted in Sutherland School of Law
The UCD Centre for Human Rights was honoured to host the 14th International Conference on Education and Democratic Citizenship (ICEDC) at the Sutherland School of Law on June 12th, 2023. This is the first time the ICEDC Conference has been convened outside its usual home at the Institute of Education at University College London. The annual conference is a meeting place for scholars and researchers from the fields of law, education, sociology, history, politics, and other relevant disciplines, as well as policymakers and civil society activists from across Europe and internationally to present and discuss current research and policy relating to human rights education and citizenship.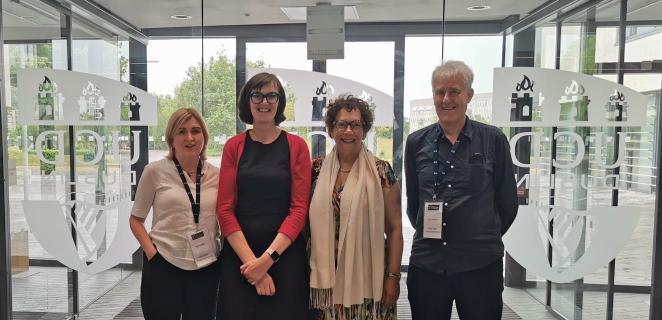 (L to R) Professor Laura Lundy (Co-Director of the Centre for Children's Rights and Professor of Education, Law and of Children's Rights at Queen's University Belfast and the School of Law, UCC); Dr. Suzanne Egan (Associate Professor and Director of Knowledge Exchange, UCD School of Law); Professor Audrey Osler (Professor of Citizenship and Human Rights Education at the University of Leeds and Professor of Education at the University of South Eastern Norway); and Professor Hugh Starkey (Professor of Citizenship and Human Rights Education, Institute of Education, University College London).
Taking place on the 75th anniversary year of the Universal Declaration of Human Rights which was adopted by the UN in 1948, the theme of this year's conference was Human Rights and Education: Past, Present and Future. Education is central to the fulfilment of many of the rights in the Declaration and Article 26 of the text expressly provides that the right to education itself should be directed "...to the full development of the human personality and to the strengthening of respect for human rights and fundamental freedoms".
The conference featured presentations from some 24 participants in parallel sessions on a range of relevant topics including issues in and methodologies of human rights education in schools and at third level, and the role of human rights education in combating discrimination and sexual abuse. These sessions were interspersed by fascinating keynote speeches by three leading scholars in the field of human rights education and children's rights: Professor Laura Lundy (Queen's University Belfast and UCC, School of Law) addressed children's right to education: past, present and future; Professor Audrey Osler (University of Leeds and University of South-Eastern Norway) spoke on the theme of extending human rights education by exploring contentious issues through family histories; while Professor Hugh Starkey (University College London) closed out the conference proceedings with a presentation on human rights education in context: peace, antiracism, global citizenship and the climate emergency.
The conference was convened by Associate Professor Suzanne Egan (who leads the School of Law's clinical modules on human rights education and law in the classroom) together with Professors Osler and Starkey. All three are members of the editorial team of the Human Rights Education Review (HRER) an open access, online international scholarly journal which provides a forum for research and critical scholarship on human rights and diversity in education internationally. It is hoped that the best papers from the conference will be published in a forthcoming issues of the HRER.
Minister Roderic O'Connor chairs panel at seminar hosted by UCD Centre for Constitutional Studies
The UCD Centre for Constitutional Studies has organised several successful events under its professional development programme so far in 2023.
The year started with its 9th annual update on Irish Constitutional Law which took place in January with speakers Professor Eoin Carolan SC, Brian Foley SC, Dr Tom Hickey (DCU), Dr Sarah Fulham McQuillan and Associate Professor John O'Dowd. Speakers looked at the key decisions on Irish constitutional law that were delivered by the courts in 2022.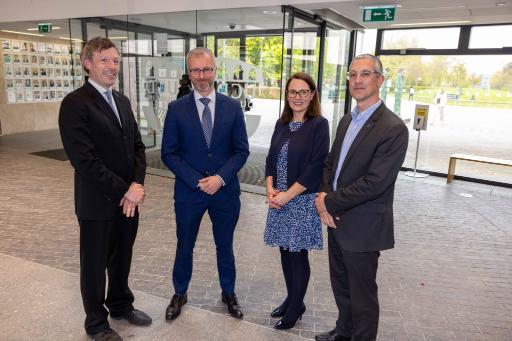 Prof Eoin Carolan SC, Minister Roderic O'Gorman, Orla Keane and Prof Laurent Pech, UCD Dean of Law
In late April, the Centre organised an information event for legal and healthcare professionals to coincide with the commencement of 'The Assisted Decision-Making Capacity Act. The Act marks the biggest change for decades in Ireland's legal framework for people with capacity issues and abolishes the current wards of court system. The first panel of the day was hosted by Mr. Justice David Barniville, President of the High Court and the second by Mr. Roderic O'Gorman TD, Minister for Children, Equality, Disability, Integration and Youth. Guest speakers included Áine Hynes SC, St John Solicitors, Fiona McNulty, Mason Hayes & Curran, Aoife Mulligan BL and Orla Keane, General Counsel Mental Health Commission and the Decision Support Service.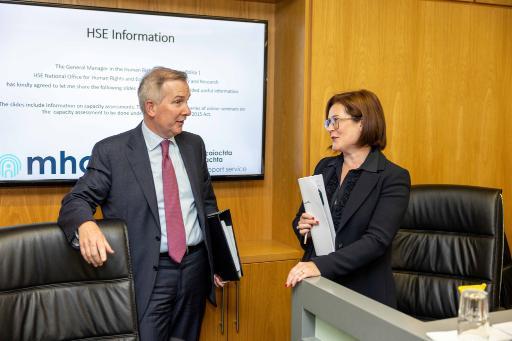 This year, the Centre was honoured to welcome the following distinguished guests to chair panels through the day: Hon. Mr. Justice Collins, Supreme Court, Hon. Ms. Justice Butler, Court of Appeal, Hon. Mr. Justice O'Higgins, High Court, Hon. Ms. Justice Phelan, High Court, Mr Rossa Fanning SC, Attorney General and Ciarán Toland SC.
The UCD Centre for Constitutional Studies was also grateful to the many speakers who delivered papers on the day: Denise Brett SC, Eoin Carolan SC and UCD, Sarah Cooney BL, Roisin Costello BL, April Duff BL, Emily Farrell SC, John Fitzgerald SC, Brian Foley SC, Finn Keyes BL, Ronan Lupton SC, Tony McGillicuddy SC, Aoife Mc Mahon BL, Aoiffe Moran from Mason Hayes & Curran, Aoife Mulligan BL, Professor Colm O'Cinneide of UCL, John O'Dowd from UCD, Ailbhe O'Neill SC and TCD, Bernadette Quigley SC, Eltin Ryle of Matheson and Mark Rodgers BL.
Those interested in attending future events can ensure that they receive advance information by emailing law.events@ucd.ie.