Professor Gráinne de Búrca awarded UCD Honorary Degree of Doctor of Laws
Professor Gráinne de Búrca awarded UCD Honorary Degree of Doctor of Laws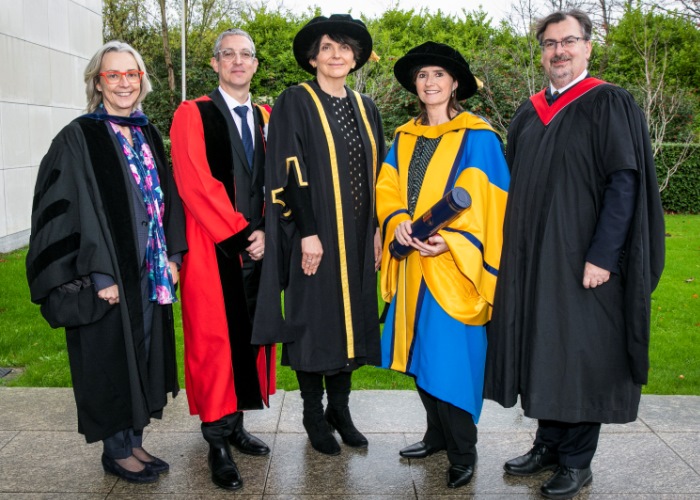 Prof Imelda Maher, Prof Laurent Pech, Prof Orla Feely, Prof Gráinne de Búrca and Prof Colin Scott
Professor Gráinne de Búrca, New York University Law School, was recently awarded a UCD Honorary Degree of Doctor of Laws. UCD Sutherland School of Law was pleased to have had this opportunity to honour one of the school's most distinguished alumni.
Professor de Búrca is the Florence Ellinwood Allen Professor of Law at NYU. She is a law graduate of UCD, the University of Michigan and Kings Inns. She started her career as a researcher at the Law Reform Commission in Dublin before moving to Oxford University and then onto the prestigious European University Institute in Florence. She was the first Irish person to hold a tenured chair at Harvard Law School before taking up her current role at NYU. Her work has covered three important and related domains of law: European Union Law, Human Rights Law, and Constitutional Law. She is widely published across these areas and, in her career to date, has edited or co-edited eleven books. This is in addition to her more than 80 articles and book chapters in prestigious journals and edited collections.
At the conferring ceremony in O'Reilly Hall, our colleague, Professor Imelda Maher, delivered a wonderful tribute to Professor de Búrca before a large audience of graduating students and their families. Professor Maher took the opportunity to outline Professor de Búrca's many achievements and her unrivalled contribution to the field of law. She described how Professor de Búrca has been an inspiration for generations of law students, with a distinctive voice which is rigorous, original, exacting in legal analysis, while engaging with and advancing debates on governance and law. Professor Maher added that her scholarship has advanced the boundaries of our knowledge and understanding of law which is why UCD is proud to award her with an honorary doctorate.
Professor Maher's full citation for Professor Gráinne de Búrca can be read at this link.