Portrait of Mrs Justice Catherine McGuinness
Unveiling of Portrait of Mrs Justice Catherine McGuinness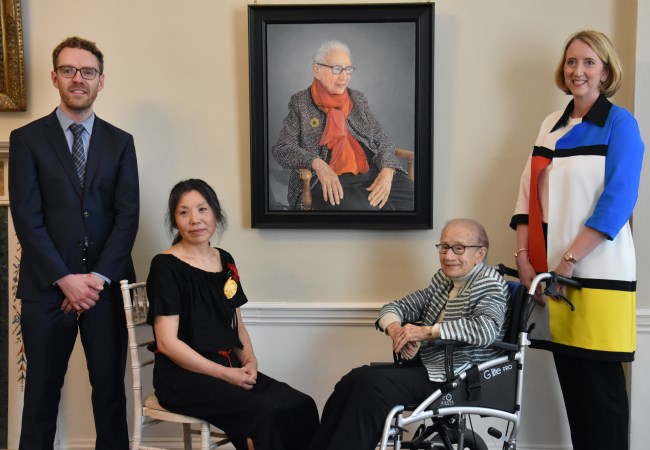 Dr Mark Coen, Miseon Lee, Mrs Justice Catherine McGuinness and Tara Doyle at the unveiling. Photo credit: Ann Lane
UCD Sutherland School of Law congratulates Dr Mark Coen for leading a project that culminated in a portrait being commissioned of former Supreme Court judge Mrs Justice Catherine McGuinness for the National Gallery of Ireland.
President Michael D Higgins unveiled the portrait at an event attended by Judge McGuinness' family and friends and by guests from the worlds of law and politics. Several UCD Law alumni, including Mr Justice Gerard Hogan, Mr Justice Michael Peart and broadcaster Miriam O'Callaghan were also in attendance
The unveiling was the culmination of a project that began in 2019, when Dr Mark Coen contacted the Director of the Gallery, Sean Rainbird, making the case for the inclusion of a portrait of Judge McGuinness in the national collection. Dr Coen liaised with the Gallery and with Judge McGuinness herself, and recruited a generous donor, Tara Doyle, who presented the portrait to the nation.
The portrait, by artist Miseon Lee, has been much admired by visitors to the Gallery since it went on display. It is a portrait of Catherine McGuinness the person rather than a formal judicial portrait and is a fitting tribute to her long and varied life of public service, including time as a senator, member of the Council of State and President of the Law Reform Commission.