UCD Law hosts Student Event on The European Strategic Autonomy with Admiral Mellett (ret.) and Colonel Dirou
UCD Law hosts Student Event on The European Strategic Autonomy with Admiral Mellett (ret.) and Colonel Dirou
The UCD Sutherland School of Law was honoured to host a student event on The European Strategic Autonomy: Crossed Perspectives with guest speakers Admiral Mellett, former Chief of Staff of the Irish Defence Forces, and Colonel Dirou, Deputy Head of Defence Strategy, French Ministry of the Armed Forces.
The issue of conflicts worldwide, and more implicit conflicts affecting Europe, implies a broad understanding of how societies and countries interact, including how they view the use of their armed forces and to understand how governments and societies perceive the role of their defence forces in the face of the different threats (e.g., climate change threat, terrorist threats, traditional security threats etc.). Against this backdrop, several questions arise in the EU context. Does the EU have the means to ensure its security? What could be the role of the EU in respect of the Member States' sovereignty? How can the EU encourage its citizens to feel more concerned about their security? What are the common threats?
Admiral Mark Mellett (ret.) and Colonel Armel Dirou offered insightful perspectives on these strategic issues. The Q&A with students covered a wide range of issues in relation to the actual fleshing out of the EU strategic autonomy in view of different challenges (climate crisis and migrant crisis). Questions about the articulation of the EU defence and security strategy and the role of NATO as well as the issue of the neutrality of Ireland were also discussed. Professor Ben Tonra, UCD Professor of International Relations at UCD School of Politics and International Relations, offered the concluding remarks touching upon the sovereignty and responsibility of member states.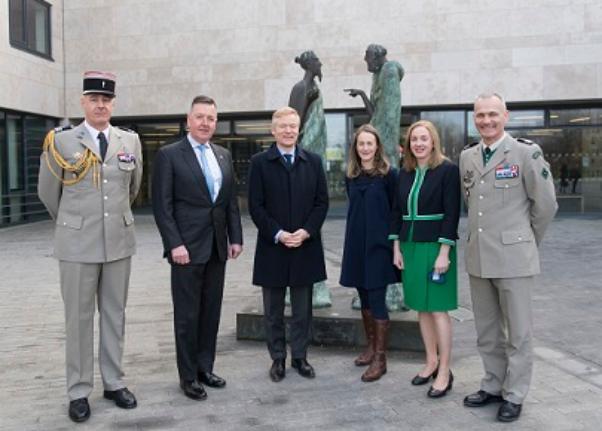 Left to right: Col. Filser, Adm. Mellett (ret.), H.E. Guérend, Dr. Paris, Prof. Moore-Cherry, and Col. Dirou.
This was a timely discussion given the latest developments about defence. See also the interview of the French Ambassador H.E. Vincent Guérend here.
In attendance were UCD students in Law and in Political Science, students from other universities, as well as a number of other participants including the US and UK Military Attachés.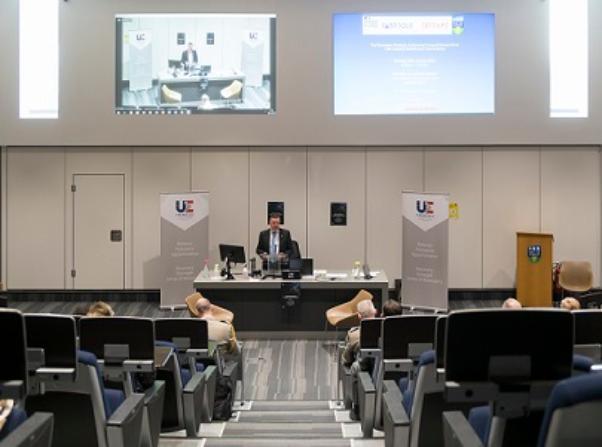 Adm. Mellett (ret.) delivering his address
The event was sponsored by the Embassy of France in Ireland and the UCD College of Social Sciences and Law (College Strategic Funding Scheme). It was organised by Dr. Marie-Luce Paris, UCD Sutherland School of Law, and Colonel Nicolas Filser, French Defence Attaché in Ireland.
Note that this event took place on 24 January 2022, after the lifting of most Covid restrictions.