Four UCD Law students take part in Our Rule of Law Academy in Brussels
Four UCD Law students take part in 'Our Rule of Law Academy' in Brussels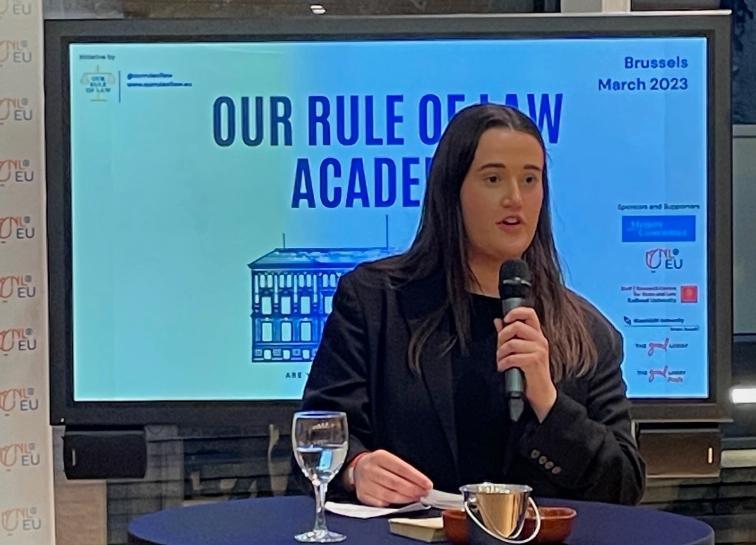 UCD Law with French Law student, Roisin O'Donovan, speaking at 'Our Rule of Law Academy'.
We are extremely proud of our four students who participated in the first edition of the Rule of Law Academy between January and March 2023. The 'Our Rule of Law Academy' is an academic mentorship programme for the future generation of rule of law defenders. As part of the programme, forty-five undergraduate students from twenty-five EU Member States conduct research and develop policy proposals in the area of European Law. They are divided into eleven working groups and are supervised by twenty-two rule of law experts. This year the mentors included UCD alumna Prof Grainne de Burca of NYU and UCD Dean of Law, Prof Laurent Pech. The students who participated this year from UCD Sutherland School of Law were:

• Roisin O'Donovan (Law with French Law): Academic Freedom Working Group
• Katie O'Sullivan (Law with Politics): Political and Policy Methods Working Group
• Saira Khan (Business and Law): Non-implementation of ECtHR/ECJ judgements Working Group
• Marianne Wetter (Law with French Law): Protection of NGOs Working Group

The aim of the project is to educate young students of law and related disciplines through educational democracy - and rule of law-related activities, draw upon their international and intercultural background, and encourage them to get personally involved in the fight for European democracy. Each of the eleven groups tackles a particular issue of the European rule of law crisis and develop a policy proposal designed to tackle the select issue. In this way the combined efforts of all the participants and mentors will lead to a holistic policy response to the rule of law crisis.
As part of their time in Brussels, the students also got the opportunity to visit the European Commission. There they attended talks given by distinguished speakers which included UCD Alumna, Judge Síofra O'Leary, President of the European Court of Human Rights.
The outcomes of the programme have now been published and are available to download here.