The 1981 BCL Class celebrate forty years since graduation
The 1981 BCL Class celebrate forty years since graduation
We were delighted to support the organisers of the Class of 1981 Reunion in February 2023. The Milestone Reunion which we would normally have hosted for them in 2021 had not taken place due to Covid but they were able to belatedly mark their 40 Years since graduation from the UCD School of Law, this year.
Over 60 Alumni gathered in the Blue Room of the Law Society of Ireland in Blackhall Place for the event led by class alumni Martin Lawlor, Richard Devereux and Gearóidín Charlton who worked for several months on the event, supported by UCD Alumni Relations on the event.
Alumni were greeted on arrival by UCD Alumni Relations and were gifted a commemorative UCD pin. During the reminiscing, catch ups and champagne, Law lecturer John O'Dowd from the UCD Sutherland School of Law spoke to the Class of 1981 about some of the changes that had happened at the School over the last four decades, updating them on previous lecturers, current school activities and achievements.
Following the speeches, the class retired to the Restaurant in Blackhall Place to continue the evening over dinner and catch up on a few more memories.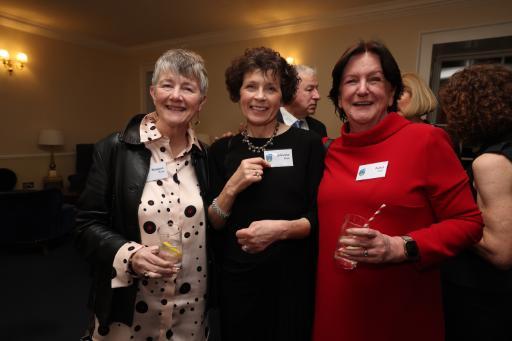 Margaret Walsh, Adrienne Bergin and Isabel Foley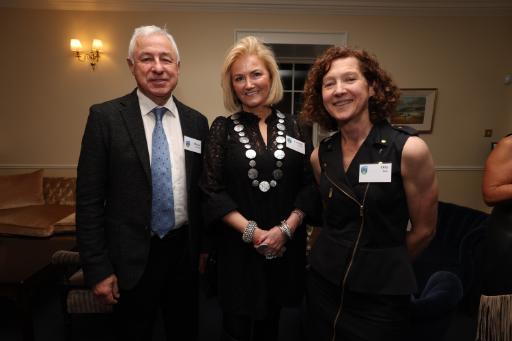 Mr Justice Michael McGrath, Gearóidín Charlton and Orla Finn
Nollaig Green and Mary Quinn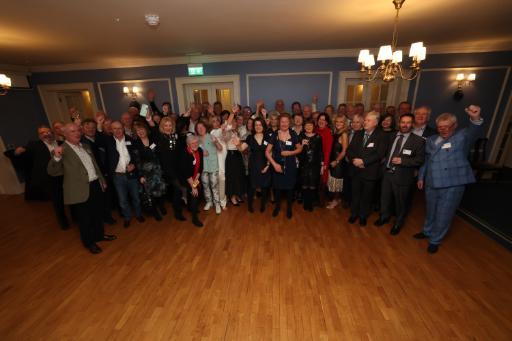 The BCL Class of 1981
Minister Roderic O'Connor chairs panel at seminar hosted by UCD Centre for Constitutional Studies
The UCD Centre for Constitutional Studies has organised several successful events under its professional development programme so far in 2023.
The year started with its 9th annual update on Irish Constitutional Law which took place in January with speakers Professor Eoin Carolan SC, Brian Foley SC, Dr Tom Hickey (DCU), Dr Sarah Fulham McQuillan and Associate Professor John O'Dowd. Speakers looked at the key decisions on Irish constitutional law that were delivered by the courts in 2022.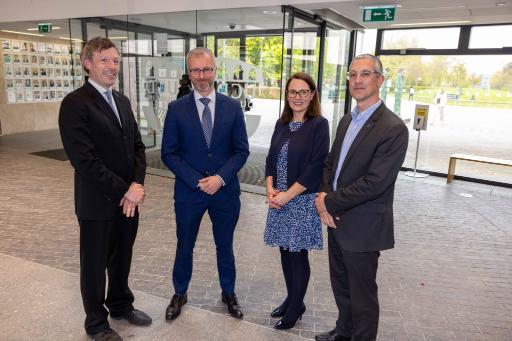 Prof Eoin Carolan SC, Minister Roderic O'Gorman, Orla Keane and Prof Laurent Pech, UCD Dean of Law

In late April, the Centre organised an information event for legal and healthcare professionals to coincide with the commencement of 'The Assisted Decision-Making Capacity Act. The Act marks the biggest change for decades in Ireland's legal framework for people with capacity issues and abolishes the current wards of court system. The first panel of the day was hosted by Mr. Justice David Barniville, President of the High Court and the second by Mr. Roderic O'Gorman TD, Minister for Children, Equality, Disability, Integration and Youth. Guest speakers included Áine Hynes SC, St John Solicitors, Fiona McNulty, Mason Hayes & Curran, Aoife Mulligan BL and Orla Keane, General Counsel Mental Health Commission and the Decision Support Service.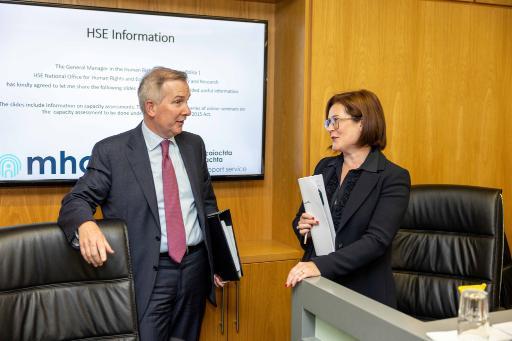 Mr. Justice David Barniville with Áine Hynes SC of St John Solicitors
The Centre's annual 'Current Issues in Irish Public Law' conference was held again this year with twenty-five participants from the judiciary, law firms and academia. The conference is one of the Centre's largest annual events and attracts speakers and attendees from academia and legal practice every year.
This year, the Centre was honoured to welcome the following distinguished guests to chair panels through the day: Hon. Mr. Justice Collins, Supreme Court, Hon. Ms. Justice Butler, Court of Appeal, Hon. Mr. Justice O'Higgins, High Court, Hon. Ms. Justice Phelan, High Court, Mr Rossa Fanning SC, Attorney General and Ciarán Toland SC.
The UCD Centre for Constitutional Studies was also grateful to the many speakers who delivered papers on the day: Denise Brett SC, Eoin Carolan SC and UCD, Sarah Cooney BL, Roisin Costello BL, April Duff BL, Emily Farrell SC, John Fitzgerald SC, Brian Foley SC, Finn Keyes BL, Ronan Lupton SC, Tony McGillicuddy SC, Aoife Mc Mahon BL, Aoiffe Moran from Mason Hayes & Curran, Aoife Mulligan BL, Professor Colm O'Cinneide of UCL, John O'Dowd from UCD, Ailbhe O'Neill SC and TCD, Bernadette Quigley SC, Eltin Ryle of Matheson and Mark Rodgers BL.
Those interested in attending future events can ensure that they receive advance information by emailing law.events@ucd.ie.