Mr Justice Gerard Hogan launches 'Palles: The Legal Legacy of the Last Lord Chief Baron
Mr Justice Gerard Hogan launches 'Palles: The Legal Legacy of the Last Lord Chief Baron'
On October 5, the Sutherland School of Law hosted the launch of Palles: The Legal Legacy of the Last Lord Chief Baron (Four Courts Press, 2022), co-edited by Professor Oonagh Breen and Dr Noel McGrath. The book, which is the culmination of a 5-year research initiative involving law and history academics from UCD, TCD, NUIM, UCC and Denver Colorado, celebrates the judicial legacy of Christopher Palles (1831-1920), one of the common law's longest serving judges, a century after his death. In his keynote speech, Mr Justice Gerard Hogan congratulated the book's contributors on producing "beautiful, elegant and interesting essays" and commended the work as a fitting tribute to the Chief Baron. The Law School was delighted to welcome UCD Library staff who displayed some of the Palles Special Collection, including Palles' manuscript charge sheets; and Noelle Dowling, Archivist of the Archdiocese of Dublin, who displayed the draft trust deed gifting Palles' library to the newly formed UCD, along with correspondence relating to the valuation of the Palles' library which Archbishop Walsh purchased from the Palles estate in 1920.
The launch was well attended by friends and colleagues of UCD Law School, including Law school alumni, members of the judiciary, members of the Irish Legal History Society and representatives of Clongowes Wood College. The book is available for purchase from Four Courts Press.
Anthony Kerr SC, Professor Oonagh Breen and Chief Justice Donal O'Donnell examining the UCD Special Collection's Palles' books.
Book Contributors, (Dr) Desmond Ryan BL, Beth Cope Whitenight (representing the late Tom Cope), (Assoc Professor) Kevin Costello, Mr Justice Gerard Hogan, (Dr) Noel McGrath BL, (Professor) Oonagh Breen, (Associate Professor) Niamh Howlin and (Dr) Mark Coen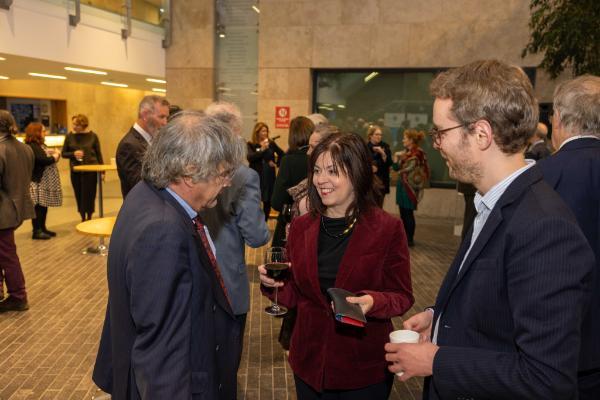 Anthony Kerry SC, Ms Justice Una Ni Raifeartaigh and Dr Mark Coen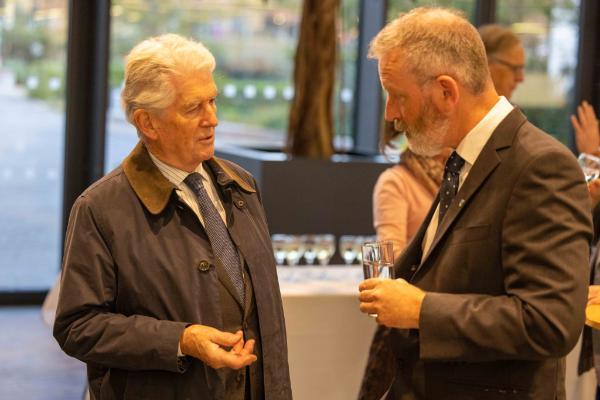 Brian Dempsey SC with Professor Gavin Barrett
Professor Paul O'Connor, Judge Kathyrn Hutton and Daire Hogan with ArchDiocese archives in the background