International Symposium "Entrenching a Global Health Emergency Mode: Implications for Health and Human Rights Law"
International Symposium "Entrenching a Global Health Emergency Mode: Implications for Health and Human Rights Law"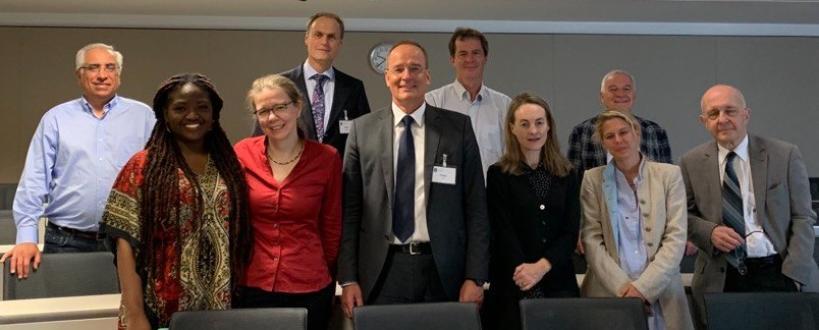 (Front) Moyinoluwa Adelakun, Dr. Amrei Müller, Philipp Kruse, Dr. Marie-Luce Paris, Dr. Silvia Behrendt, Prof. David Dürr, (Back) Prof. Joseph Cannataci, Prof. Günter Reiner, Dr. David Bell, Prof. Michael Geistlinger
UCD Centre for Human Rights and UCD Sutherland School of Law were honoured to host an international research symposium on the topic 'Entrenching a Global Health Emergency Mode: Implications for Health and Human Rights Law' on the 15th and 16th of June 2023. The event was organised by Dr Amrei Müller and Dr Silvia Behrendt.
The symposium involved academics and practitioners with expertise in the area of international and domestic health law, the law of the World Health Organisation (WHO), as well as domestic, European and international human rights law.
In two days of intense discussions, the symposium explored the various ways in which the powers of the WHO and its Director-General to declare a Public Health Emergency of International Concern (PHEIC) under the 2005 International Health Regulations (IHR) and to subsequently recommend WHO member states to take medical and non-medical countermeasures against such a PHEIC impact on international, regional and domestic human rights law and the the regulatory frameworks for medicinal product authorisations. These discussions appeared particularly timely as intense negotiations of a new treaty on pandemic preparedness and response are currently on-going at the WHO, and the IHR are thoroughly revised and amended in a parallel process.
The symposium also examined broader questions concerning the securitisation of pandemic preparedness and response laws and policies, and the legal implications of the on-going public-private hybridisation of formerly public inter-governmental organisations like WHO, primarily through an increasing reliance on public-private partnerships like the Vaccine Alliance Gavi and its Covax facility as well as the Coalition for Epidemic Preparedness Innovations (Cepi).
UCD Centre for Human Rights would like to thank all participants for their valuable contributions, and UCD Sutherland School of Law for excellent administrative support of the event.