Caoilfhionn Gallagher KC appointed Adjunct Full Professor at UCD Sutherland School of Law
Caoilfhionn Gallagher KC appointed Adjunct Full Professor at UCD Sutherland School of Law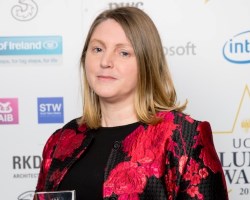 We are pleased to announce that leading human rights lawyer, Caoilfhionn Gallagher KC, will join the School as an Adjunct Full Professor from September 2023. Caoilfhionn is a graduate of the school and was awarded the UCD Law Alumni Award in 2017. She practises as a barrister with Doughty Street Chambers in London and is a specialist in human rights law, public law, media law, inquests/inquiries, community care and prison law.
Caoilfhionn has acted in many landmark human rights cases before the European Court of Human Rights, United Nations bodies and other international tribunals, the Judicial Committee of the Privy Council, and courts in the UK and a number of other jurisdictions.
Her prominent work has included acting for bereaved families and survivors of the 7/7 London bombings and the Hillsborough disaster, and her involvement in a number of high-profile case related to journalists' safety, including acting for the family of Daphne Caruana Galizia, who was assassinated in Malta in 2017, and Jimmy Lai, the media owner, writer and pro-democracy campaigner imprisoned in Hong Kong. Earlier this year she was appointed as Ireland's special rapporteur on child protection.
We look forward to the contribution that Caoilfhionn Gallagher KC will make to the school and the inspiration she will provide to our students.