Fourteen Law Students Awarded Medals at Bank of Ireland Prize Giving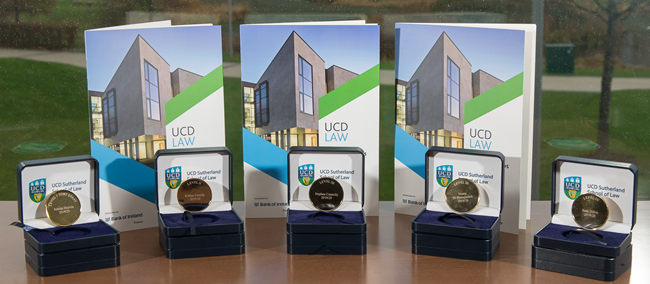 On 25 November 2021 we honoured the top students across the four years of the UCD Law undergraduate programmes at the Bank of Ireland Awards. The medals awarded this year were for the academic year 2019/2020 and these awards continue a tradition started in 1976. We were particularly honoured to welcome Bank of Ireland Finance as the sponsors of the awards this year and are grateful to Managing Director, Mr Derek McDermott, for his support of UCD Sutherland School of Law and our students.
The awards include prizes for a Tort Essay for students in Stage 1 and this year the adjudicator was Mr Justice David Barniville of the Court of Appeal who is himself a past prize-winner. This is now the fourtieth year of the competition being adjudicated by a distinguished member of the Judiciary and we are very grateful for their continued support and involvement.
Mr Justice Barniville spoke eloquently to the assembled group of students and their families. His talk was both inspiring and amusing where he related some interesting personal anecdotes from his judicial career. While it was disappointing that the event had to take place virtually this year and the students didn't have the opportunity to meet the judge in person, Mr Justice Barniville's contribution made the event enjoyable for all.
We would like to congratulate the following students on their outstanding achievements in the academic year 2019/2020:
Level I Tort Essay
First Place - Gold Medal: Juliette Bertola
Second Place - Silver Medal: David Egan
Third Place- Bronze Medal: Fionán Minogue
Stage II Medal Winners
First Place - Gold Medal: Killian Farrelly
Second Place - Silver Medal: Emily Cahill
Third Place - Bronze Medals: Joseph Aherne & Kate Kilcommins
Stage III Medal Winners
First Place - Gold Medals: Stephen Connolly & Neasa Ni Bheaglaoich
Third Place - Bronze Medal: Elizabeth Higgins
Stage IV Medal Winners
First Place - Gold Medal: Sean Dillon
Second Place - Silver Medal: Joanne Johnston
Third Place - Bronze Medals: Cillian Madden & Tom O'Moore
(Note: For the Tort Essay, entry was open to all stages of law students studying the Tort Module. The prizes for 2nd. 3rd & 4th Law were awarded to the top students for their overall performance across all law programmes).
These students join a distinguished group of UCD Law Alumni who were past award winners. These include our Dean, Dr Niamh Howlin, and no less than seven of our current faculty. Other prize-winners include leading lawyers such as Ms Aedamar Comiskey, Senior Partner and Chair of Linklaters, and many members of the judiciary such as Judge Siofra O'Leary, Vice-President of the European Court of Human Rights, Ms Justice Aileen Donnelly of the Court of Appeal and High Court Judges Mr Justice Paul Coffey, Mr Justice Brian Cregan and Mr Justice Richard Humphreys.
The staff of UCD Sutherland School of Law warmly congratulates the 2019/2020 award winning students for their hard work and outstanding achievements.