Dr Michael F Farrell, human rights activist awarded Honorary Degree of Doctor of Laws
Dr Michael F Farrell, human rights activist, awarded Honorary Degree of Doctor of Laws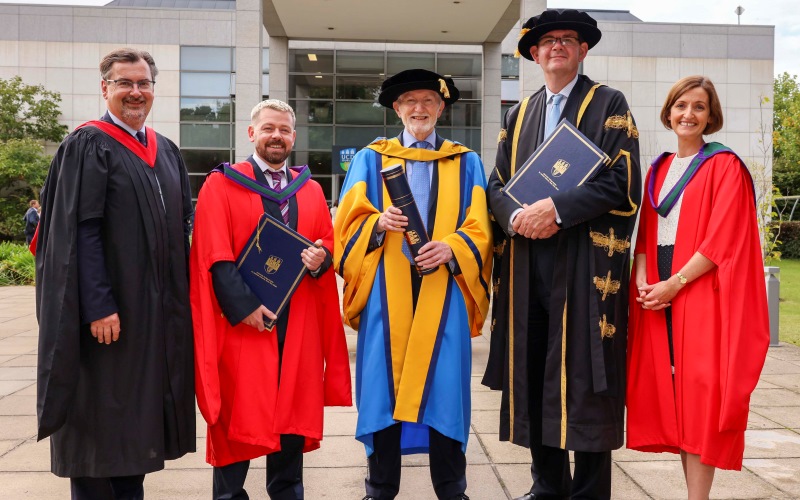 Prof Colin Scott, Dr Liam Thornton, Dr Michael Farell, Prof Mark Rogers, Dr Niamh Thornton
UCD Sutherland School of Law was delighted to confer the renowned human rights activist, Dr Michael F Farrell, with an Honorary Degree of Doctor of Laws at a recent graduation ceremony.
Our colleague, Dr Liam Thornton, delivered a wonderful tribute to Dr Farrell outlining his many achievements. Dr Thornton spoke about how he dedicated his professional life to highlighting injustices within our society and how he has utilised law as a means to uphold the civil and human rights of marginalised groups.
Michael Farell is a graduate of Queen's University, Belfast, and the University of Strathclyde. Hailing from Magherafelt in County Derry, he was a civil rights leader and activist in the 1960s and 1970s. In the 1980s, he gained a distinguished reputation in journalism, highlighting amongst other issues, the campaign for justice for the Birmingham Six and the Guildford Four.
Having subsequently obtained a legal qualification, he was the first Irish lawyer who, on behalf of his client, brought a case to the United Nations Human Rights Committee. He then joined the Free Legal Advice Centres, FLAC, where his litigation work has been highly praised in social welfare law, asylum and refugee law and the rights of persons who are transgender. At the Irish Council for Civil Liberties his work on the Law Society's Human Rights Committee, contributed positively to a whole range of areas for proposed law reform.
Dr Thornton's full citation for Dr Michael F Farell can be read at this link.