Alumnus Vincent Keaveny appointed Lord Mayor of the City of London
Alumnus Vincent Keaveny appointed Lord Mayor of the City of London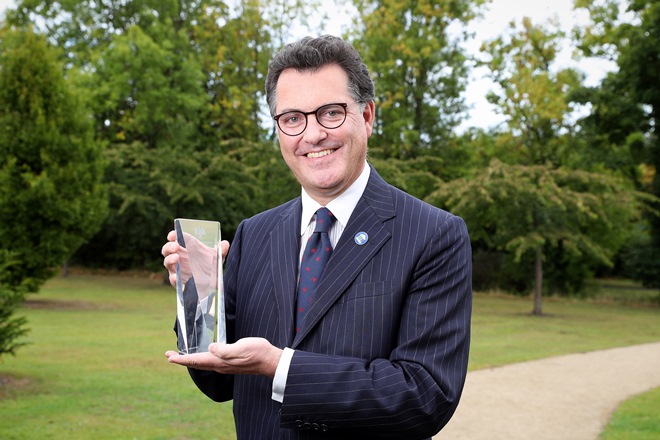 Vincent Keaveny pictured at the 2018 UCD Alumni Awards
Congratulations to our alumnus, Vincent Keaveny who was recently elected the 693rd Lord Mayor of the City of London. As the elected head of the City of London Corporation, he will serve as a global ambassador for the UK-based financial and professional services industry from November 2021 for a one-year term. At the Lord Mayor's banquet he delivered a very inspiring speech which can be viewed at this link.
Vincent has been a great advocate and supporter of UCD Sutherland School of Law. He holds a BCL degree from UCD and was the recipient of our prestigious Law Alumnus of the Year award in 2018. The following year he kindly hosted a group of UCD Law students on a tour of the 'Old Bailey', London's Central Criminal Court and he continues to be very engaged with the School of Law.
As Lord Mayor, Vincent – a partner in the international business law firm, DLA Piper – will act as an international spokesperson for the City, leading business delegations to key international markets on behalf of the UK's financial and professional services industry.
In the role, he will meet government representatives from around the world alongside business leaders and policymakers both in the UK and beyond. During his Mayoral year, Alderman Keaveny will also look to promote his 'People and Purpose' agenda, championing a purpose-led and people-focused UK financial and professional services sector.
Vincent Keaveny said:
"I am honoured to be elected as the 693rd Lord Mayor of the City of London at such a critical time. The City will play a key role in addressing some of the major issues of today: supporting the recovery, making the most of talented people across the country and tackling climate change".
(With thanks to the following website for content for this story: https://www.cityoflondon.gov.uk/)