Lord Sumption delivers the 2022 John M. Kelly lecture to a large audience in UCD Sutherland School of Law
Lord Sumption delivers the John M. Kelly lecture in UCD Sutherland School of Law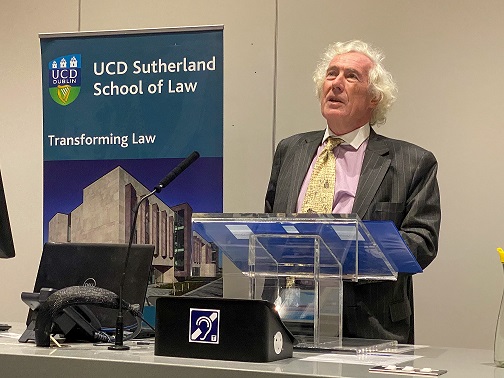 UCD Sutherland School of Law was delighted to welcome Lord Jonathan Sumption to deliver the 2022 John M. Kelly Memorial Lecture in late March. Our distinguished alumnus, the Chief Justice, Mr Justice Donal O'Donnell introduced Lord Sumption on the evening. The Chief Justice is a former student of John Kelly's from UCD and also delivered a lecture in the series in 2016. Dr Niamh Howlin, Dean of Law began the evening's proceedings by welcoming the Chief Justice, the Kelly Family and the audience in attendance
Lord Sumption is a former senior British judge, an accomplished author and medieval historian. He served as a Justice of the UK Supreme Court from 2012 to 2018. He has written several books of Medieval history and four books on the Hundred Years War. 'The European Union and the Nation-state' was the topic of Lord Sumption's talk for the lecture. There was a very large audience in attendance to hear Lord Sumption speak on this highly topical subject and deliver an extremely wide ranging and interesting lecture.
We are delighted to share the recording of Lord Sumption's Lecture here.
The audience of academics, students, practitioners and members of the judiciary included members of Professor John M. Kelly's family. Guests at the lecture included many notable alumni including the Attorney General, Mr Paul Gallagher and Senator Michael McDowell. The lecture honours the memory of Professor Kelly, (1931-1991) who was Professor of Jurisprudence and editor of the Irish Jurist as well as a government Minister and Attorney General.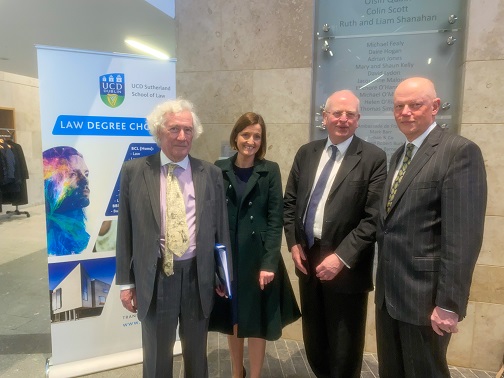 (L to R) Lord Sumption, Dr Niamh Howlin and Chief Justice, Mr Justice Donal O'Donnell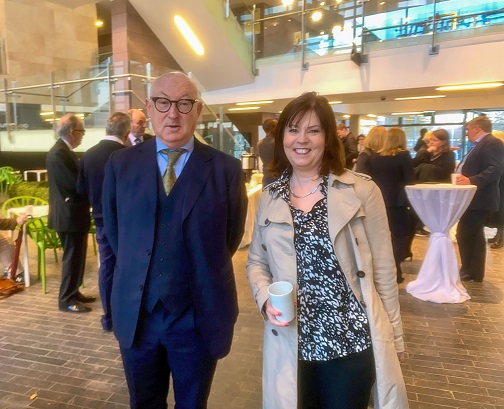 (L to R) Mr Justice Brian Murray of the Supreme Court with Ms Justice Úna Ní Raifeartaigh of the Court of Appeal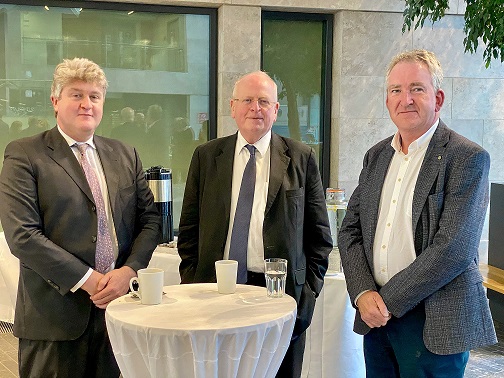 (L to R) Mr Michael McNamara TD, Senator Michael McDowell and Mr Ciaran O'Meara