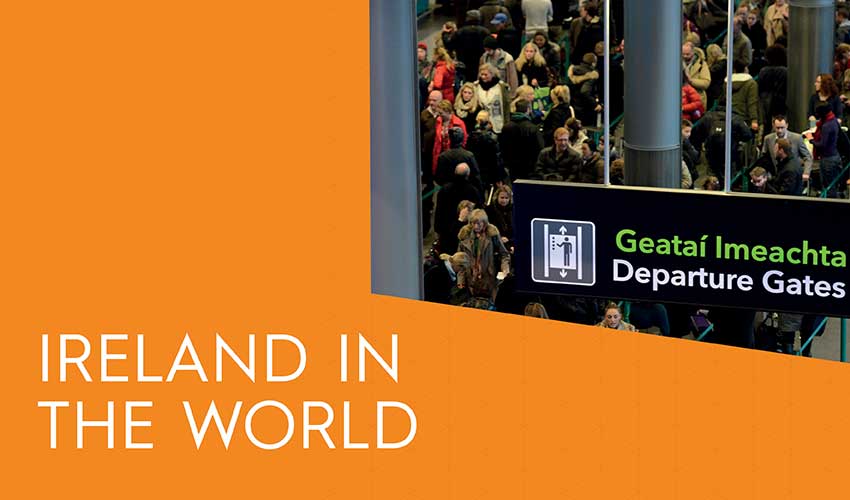 More than 70 million people worldwide can claim descent from Irish emigrants. Yet this is a small island with a population of less than 5 million. Ireland is the most westerly country on the European seaboard and as an island can be described in geographical and physical terms as being on the edge of Europe. Being on the edge has provided the platform for Ireland to create many global links.
Migration is central to the Irish psyche, language, lore, storytelling, literary works, art works and music of the Irish at home and abroad. But engaging with Ireland in the world opens up questions and challenges about a number of contexts, including migration, artistic and literary exchanges, cultural encounters, translation, the relationship between empire, colony, and nation, and its position within and between Europe and the Anglophone world.
---
Theme Members
---
Projects, News and Events
Global Futures of Irish Studies
The Global Futures of Irish Studies' (GIDC event developed by our committee Vice President Dr Darragh Gannon), is holding a new series of online roundtables to discuss the global challenges facing diverse Irish Studies communities. The inaugural event will take place 26 May 2021.
---
Conversations on Ireland and Latin America
Join us for 'Conversations on Ireland and Latin America' organised by the Dept of Spanish Portuguese and Latin American Studies, UCC. Featuring Dr Pascale Baker, UCD School of Languages, Cultures and Linguistics.
---
Book Discussion: Irish Immigrants in Peru
To commemorate Irish involvement in Peruvian independence in the bicentenary year, the Peruvian Embassy in Ireland are organising a discussion of the book: The Invisible Experience. Irish Immigrants in Peru (2018) with the author, Assoc. Prof. Gabriela McEvoy (Lebanon Valley College) and Dr Pascale Baker, Lecturer in Latin American Studies at UCD.
---
New Book Released by Theme Member Róisín Kennedy
Drawing on media coverage, reviews, writings and the private papers of key Irish and international artists, critics and commentators, Art and the Nation State explores the significant contribution of modern art to post-independence cultural debate and diverging notions of Irish national identity.
---
Symposium in the series 'What does it Mean to be Irish Today?'
Theme member Professor Regina Uí Chollatáin will speak at the first event 'What Language do the Irish Speak?' on Monday 12th April 16:00 - 18:00 via Zoom. Other speakers include Dr Michael Cronin, Journalist Ola Majekodunmi and Associate Professor Iarfhlaith Watson.
---

---
---
---
---
UCD Centre for Canadian Studies Festival: Landspeak
Landspeak is a series of free online talks, workshops, events, and activities, seeking to build connections through explorations in culture, sport, creativity, language, and the environment. Landspeak is presented by the Ireland Canada University Foundation, in partnership with the Centre for Creative Writing and Oral Culture in the University of Manitoba, the Centre for Canadian Studies in University College Dublin, and the Craig Dobbin Visiting Professor, University College Dublin
---
---
Read our Research Strategy brochure

Online PDF

|