9th Annual Postgraduate Workshop
9th Annual Postgraduate Workshop
Challenges for Islamic Finance and Law
Innovations and Regulations
The 9th Annual Postgraduate Workshop was held on 15th May 2015 as a part of International Islamic Finance and Law Conference 2015. Papers were invited from practitioners, academics and researchers on topics which fell within the broad theme of "Challenges for Islamic Finance and Law: The Need for Innovation and Regulation" as part of an exploration of the problems facing the Islamic Finance (IF) industry in terms of innovation and the lack of a globally recognized regulatory framework. This highlighted the current challenges in the global IF market with reference to innovations and regulations; aided the dissemination of high quality research conducted from across the globe; and, provided networking opportunities to academics and practitioners interested in this niche area of the international financial services sector.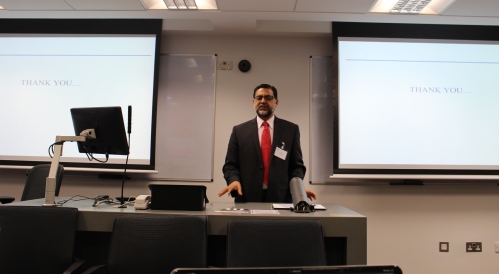 Dr Zamir Iqbal, Head of the World Bank Global Islamic Finance Development Center opened the workshop. His keynote speech was followed by a panel discussion 'Perspective on innovations and regulations' involving Mr Omar Shaikh, Mr Edward Donelan, Dr Mark Mulcahy and Professor Rodney Wilson with the discussion being facilitated by Mr John O'Dowd. The panel discussion was preceded by session on 'Legal Issues' chaired by Dr Noel McGrath and featured presentations by Mr Sultan Abdulsalam, Ms Farah Mazlan, Ms Alfiya Salikhova and Mr Muath Almajed with Sheikh Bilal Khan acting as discussant. The final session on 'Innovations' was chaired by Mr Sulatan Abdulsalam with presentations by chaired the session and featured presentations by Dr Edana Richardson, Mr Ehsan Agha, Mr Moinudin Ul Islam and Mr Mohammed Abdullah with Professor Rodney Wilson acting as discussant. The closing speech to the 9th Annual Postgraduate Workshop was given by Ms Faiza Ismail, PhD candidate in UCD Sutherland School of Law.
The 9th annual postgraduate workshop was funded by UCD Sutherland School of Law, Industrial Development Authority, Matheson, Islamic Cultural Centre of Ireland, McKeever Rowan, Dome Advisory and Islamic Finance News. Papers presented at the workshop are now being considered for publication in Journal of Kind Abdul Aziz University, Islamic Economics.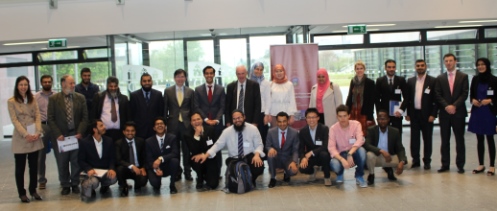 Successful organisation of the workshop is the outcome of organising committee comprising of Professor Joseph MacMahon, Dean of Law, Mr Brian Hutchinson, Ms Faiza Ismail, Mr Sultan Abdusalam, Ms Caroline Bergin Cross, Mr Munir Al Akari, Mr Taha Boksmati, Mr Sattam Almaturri, Mr Shizuh, Mr Mohammad Al Akari, Mr Assem Aied, Mr Mohanad Elsiddig and Ms Abeer Khatani, Ms Bayan Al Subhi and Mr Raif Hashem Johar.