McCann Fitzgerald Law into Art Competition Winners Announced
McCann FitzGerald 'Law into Art' Competition Winners Announced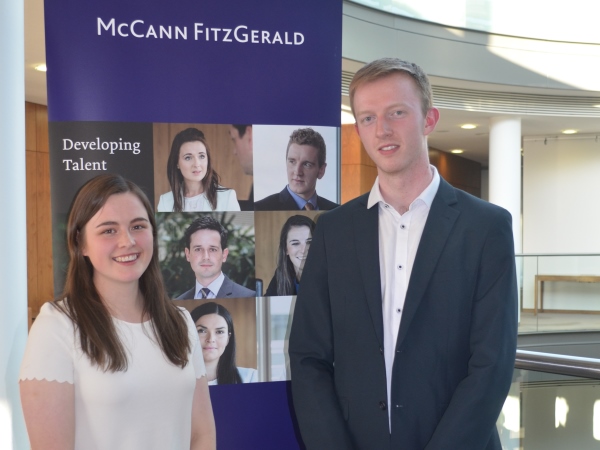 Law students Elaine Egan and Robert Lee
The UCD School of Law looks forward to the installation of a new, bespoke piece of artwork kindly being commissioned for the Sutherland building by law firm, McCann FitzGerald. The artwork will be kinetic in style and promises to be an extremely interesting, thought-provoking piece.
As part of the development of the artwork, McCann FitzGerald generously sponsored an essay competition amongst all UCD Law students. The aim of this 'Law into Art competition' was to include the UCD Law student community in the process of commissioning the artwork which will then be presented to the Sutherland School of Law. On the theme of History of Law, students were asked to submit a list of what they saw as the 10 key moments in legal history as well as a 500 word essay on one of those moments, explaining its significance and why it should be considered in the context of an artwork relating to legal history. The topic engendered much debate and discussion amongst the student body with three students being awarded prizes for their submissions. They were as follows:
First Prize: Elaine Egan
Second Prize: Conor Gilheany
Third Prize: Robert Lee
The winning essay, by Elaine Egan, was a powerful overview of the enactment of Bunreacht na hEireann, a subject that will certainly make for an interesting representation in art. Barry Devereux, Managing Partner, McCann FitzGerald awarded the prizewinners at a reception hosted in firm's offices on Sir John Rogerson's Quay. Prizewinner, Conor Gilheany is currently abroad on Erasmus and was unfortunately unable to attend.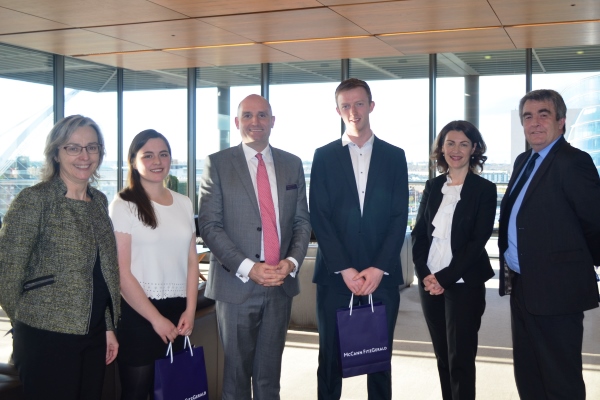 Imelda Maher (Sutherland Professor of European Law), Elaine Egan (1st prize), Barry Devereux (Managing Partner - McCann FitzGerald), Robert Lee (3rd prize), Valerie Lawlor (Partner - McCann FitzGerald), Professor Joseph McMahon (Dean of Law).