Launch of 'International Human Rights: Perspectives from Ireland'
Launch of 'International Human Rights: Perspectives from Ireland'
We were delighted to welcome Emily Logan, first Chief Commissioner of the Irish Human Rights and Equality Commission, to the Sutherland School of Law to launch 'International Human Rights: Perspectives from Ireland'. The book, published by Bloomsbury Professional, is edited by Suzanne Egan, Lecturer in Law and Director of UCD Centre for Human Rights, and examines Ireland's engagement with, and influence of, the international human rights regime.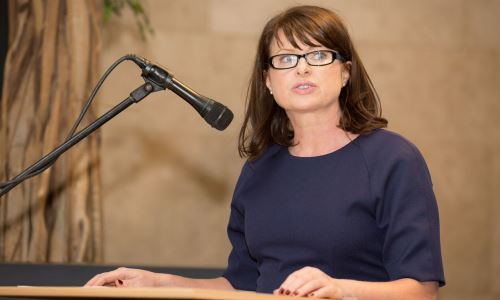 Featuring chapters by leading Irish and international academic experts, practitioners and advocates, the book integrates perspectives from a broad range of individuals acting in the human rights field. Ms Logan in her speech gave excellent insights and overview on the writings, paying tribute to each of the contributors to the book. See more at http://www.bloomsburyprofessional.com/uk/international-human-rights-perspectives-from-ireland-9781780439693/
GUESTS AND CONTRIBUTORS AT THE BOOK LAUNCH IN THE GARDINER ATRIUM, UCD SUTHERLAND SCHOOL OF LAW.