Michael McDowell launches book by Dr Joe McGrath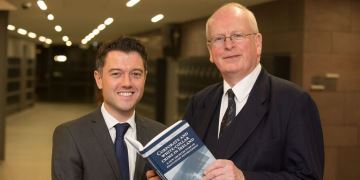 We were delighted to welcome a large group of legal, media and business professionals to the recent launch of a new book by Dr Joe McGrath, Lecturer in Law, UCD Sutherland School of Law. Entitled 'Corporate and White Collar Crime in Ireland: A New Architecture of Regulatory Enforcement'. Published by Manchester University Press, the book is the first definitive examination of the practice of corporate regulation and enforcement from the foundation of the Irish State to the present day.
To the amusement of Mr McDowell, Professor Joseph McMahon, Dean of Law, took the opportunity to present him with a framed copy of his original student card from his days in UCD.
Guests and Speakers at the Book Launch: