Visit of University of Paris II to UCD
University of Paris II (Panthéon-Assas) visit UCD to renew longstanding relationship with Sutherland School of Law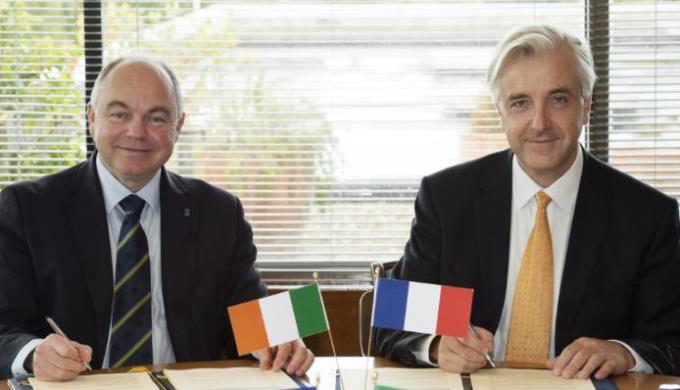 ‌
‌The President of University of Paris II (Panthéon-Assas), Professor Guillaume Leyte, visited University College Dublin on 13 October 2016 and was welcomed by UCD President, Professor Deeks. The visit was the occasion to renew a long-enduring and successful relationship between the UCD Sutherland School of Law and Paris II.
The main object of the visit was the signature of a new agreement regarding the existing BCL (Bachelor of Civil Law)/Maîtrise Programme. The BCL/Maîtrise is regarded as one of the 'jewels' in the UCD range of programmes and stands as the only dual degree programme in law in Ireland. It is aimed at high achievers and ambitious students who are trained into two legal systems, common law and civil law, and get two qualifications.
As one of the most prestigious universities in Europe and France's first law school, Paris II is a key partner for UCD SSL in teaching and research. The UCD Academic Coordinator of the BCL/Maîtrise is a graduate of Paris II.
While the signature took place in the morning, other events on the day included a lunch with dual degree students attended by the Paris II delegation, the annual Joint Management Committee meeting, and a Research Strategy meeting. The day ended with a formal dinner in honour of Professor Leyte which was also attended by Mr Aymard, Attaché for the Scientific and Higher Education Cooperation, on behalf of the French Ambassador.
Professor William Leyte was accompanied by his colleagues Associate Prof Aurélie Duffy-Meunier and Dr Georgia Schneider and were welcomed by Prof Andrew Deeks, Prof Colin Scott, Prof Joe McCMahon, Dr Marie Luce Paris, Dr Mary Catherine Lucey and Dr Richard Collins.