Walsh Lecture delivered by Hon. Ms. Justice Mary Finlay Geoghegan
Walsh lecture addresses challenges facing the courts in dealing with children's rights and views
The annual Walsh lecture, honouring the late Mr Justice Brian Walsh, is a major event in the calendar of the UCD Sutherland School of Law and the recently established UCD Centre for Human Rights. Judge Walsh was a significant figure in the field of human rights, both as a judge of the Irish Supreme Court, and later of the European Court of Human Rights.
For the second lecture in this series, we were delighted to welcome a distinguished member of the Irish judiciary, the Hon. Ms. Justice Mary Finlay Geoghegan. As a testament to the regard in which Judge Finlay Geoghegan is held, large numbers of guests attended the event including many leading figures from the area of human rights, academia, the judiciary, legal practitioners and UCD Law alumni. Not least amongst the distinguished guests was former Chief Justice Thomas Finlay, father of the speaker, now in his ninety fourth year.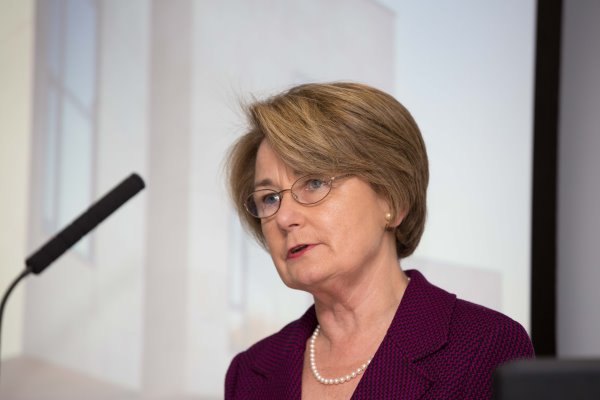 The title of the lecture selected by Ms Justice Finlay Geoghegan was "Children's Rights and Views – Challenges Facing the Courts'. Having regard to the 31st Amendment to the Constitution on children's rights and to provisions of the Children and Family Relationships Act 2015, the lecture, highlighted the practical difficulties faced by judges in discovering the views of children in matters affecting them in civil cases. UCD Sutherland School of Law was proud to have hosted this important contribution to the subject area by such a widely respected speaker as Ms Justice Finlay Geoghegan.
Guests at the Annual Walsh Lecture in the Gardiner Atrium, UCD Sutherland School of Law
| | |
| --- | --- |
| | |
| Mr David Cox and Mr Paul Gallagher SC | Former Chief Mr Justice Thomas Finlay with his daughter, the Hon. Ms. Justice Finlay Geoghegan |
| | |
| Professor Emeritus Helen O'Neill and Ms Elizabeth Mullan | Mr Brendan Dillon and Ms Fiona Mulcahy |
| | |
| Former Attorneys General Mr Dermot Gleeson SC and Mr Harry Whelehan SC | MrErcus Stewart SC and Dr Oonagh Breen |
| | |
| Mr Declan McCourt | Ms Suzanne Egan and Ms Caitriona Murray |
| | |
| Ms Bláthna Ruane SC | Walsh Scholar, Ms Aine Sharkey |