Marie Luce Paris Wins Award
UCD Law Colleague awarded Chevalier (Knight) of the Ordre des Palmes Académiques by the French Government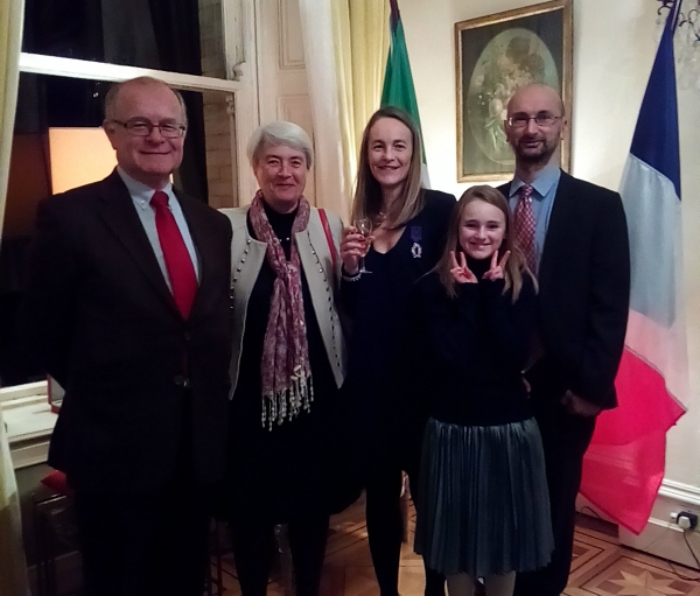 Pictured above, L-R: Mr and Mme Paris, Marie-Luce Paris, Alixe and Yves Dobozy

On 30th November, Dr Marie-Luce Paris, Assistant Professor in Law in the UCD Sutherland School of Law, was awarded the Chevalier (Knight) of the Ordre des Palmes Académiques by the French Ambassador to Ireland. Her nomination was decided by the French Minister for Education and Research in recognition of her significant work promoting legal education and research relating to Ireland and France.

The Order of Academic Palms was created by Napoleon in the early XIXth century to honour distinguished academics and other prominent educators for their contribution to French education and culture, including French expatriates making major contributions to the expansion of French culture abroad. The Academic Palms, made up of a purple ribbon attached to the cross, are the oldest non-military decorations awarded to civilians in France.

Marie-Luce Paris received her legal education at Université Panthéon-Assas (Paris II), France's first law faculty, and obtained her professional qualification as a Barrister-at-Law from the Ecole D'Avocats Du Barreau De La Cour D'Appel De Paris. Before joining UCD in 2000, she worked as a trainee in law firms and at the Commercial Court in Paris. In UCD, Marie-Luce has developed research expertise in mainly European human rights law, comparative public law and global constitutionalism. She has published widely in English and French in international academic journals. She has had a long commitment to international relations in the School having been first the Erasmus Coordinator and subsequently Head of Global Engagement (2010-2016). In this capacity, she led major projects to enhance the internationlisation of the School including with French partners. She is currently the Academic Director of two French Law programmes which seek to train Irish students to French civil law and alumni of these degrees now work in keys areas of Irish law, or internationally, and keep a strong link with France.

With this award, it seems that Marie-Luce is following a family tradition since her grand-father and uncle, both Professors of Chemistry, are also members of the Order as Officers.

The event was a joint awarding ceremony where Marie-Luce was joined by prominent colleagues Professor Jean-Paul Pittion from Trinity College Dublin, Professor Jean-Michel Picard from UCD, and Dr Éamon Maher, Director of the National Centre for Franco-Irish Studies (pictured below; see also French Embassy website).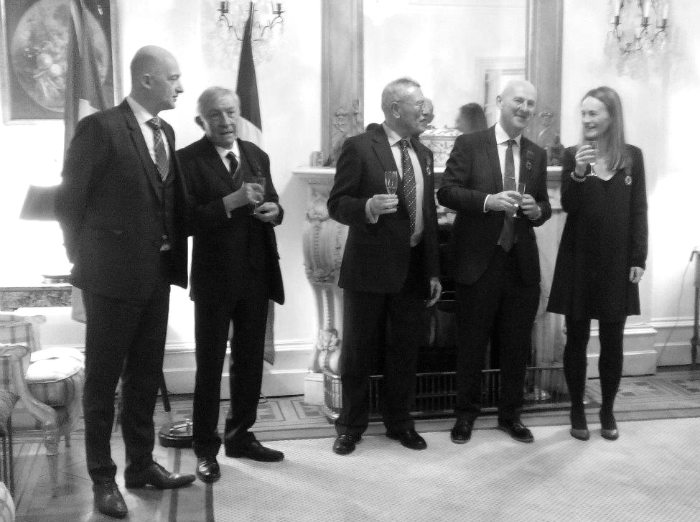 Pictured above, L-R:Frédéric Rauser, Cultural Conseiller, Jean-Paul Pittion, Jean-Michel Picard, Éamon Maher, and Marie-Luce Paris