UCD Law Students win International Debating Competition
UCD Law Students win International Debating Competition
Our congratulations to UCD Law students, Aodhán Peelo & Clíodhna Ní Chéileachair, who were recent winners of the internationally renowned debating competition, the John Smith Memorial Mace. The two Sutherland School of Law students beat the national champions of the UK - University of Cambridge, representing England; Glasgow University, representing Scotland; and the University of Swansea, representing Wales.
First established in 1954, the competition was renamed in 1995 to honour the late British Labour Party leader John Smith, a member of the 1962 winning team for Glasgow University, representing Scotland. Previous winners of the John Smith Memorial Mace include Donald Dewar, Charles Kennedy, John Nicolson, and UCD's own Anthony Clare, Patrick Cosgrave and Owen Dudley Edwards.
Clíodhna, a former committee member of the UCD Literary & Historical Society and Aodhán, current auditor of the UCD Law Society, are no strangers to high stakes debating finals. Clíodhna is the reigning champion of the Irish Times National Debating Competition, and Aodhán is a finalist of the European Universities' Debating Championships. They each spoke for nine minutes in favour of the motion "That This House Believes That Anti-Racist Activism Ought Also to be Anti-Capitalist". As law students, you might expect that debating comes naturally to Clíodhna and Aodhán. "I wish it was that easy!" said Clíodhna. "Our law classes obviously help with some techniques, but debating is an art form in and of itself. We have weekly training in UCD from some of the world's best coaches, and get amazing support from the University and the Societies' Officer when it comes to attending competitions and getting the practice we need to excel." "It's been a whirlwind," said Aodhán, "Even to have the chance to represent the university and the country abroad is such a privilege. To bring the trophy home to UCD is a dream come true, and for Ireland to win both competitions in one day is even better."
For more information on the John Smith Memorial Mace visit: http://www.esu.org/programmes/universities/competitions/john-smith-memorial-mace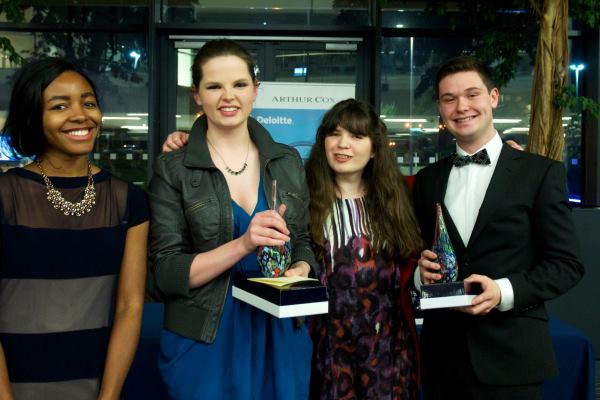 Daisy Vera Onubogu (BCL Graduate), Clíodhna Ní Chéileachair, Naoise Dolan and Aodhán Peelo
Clíodhna Ní Chéileachair and Aodhán Peelo with Grace Given and Sarah Duffy of Loreto College, St Stephen's Green, who took home the winning trophy from the international final of the ESU Schools' Mace.